FILIPINO KAKANIN Class
Cassava Bibingka and Filipino Tamales with Free Easy Bibingka Recipe Using Maya Original Hotcake
Learn how to make two Filipino delicacies that are easy to make and require only a few local ingredients.
Chef Dan and Chef Elvie show you how to make two classic kakanin recipes: Cassava Bibingka, a sweet rice cake with cassava root and coconut, and Filipino Tamales, a savory delicacy made of rice flour, coconut milk, and peanuts.
Sign up for this virtual class and get a free, easy Bibingka recipe using Maya Original Hotcake Mix!
You will need the following if you plan to participate in the class:
Requirements:
CASSAVA BIBINGKA
INGREDIENTS
freshly grated cassava
eggs                               
sugar
evaporated milk
condensed milk
coconut milk
melted butter
grated cheese
FILIPINO TAMALES
INGREDIENTS
salt 
brown sugar 
pepper 
peanut butter 
atsuete oil 
oil
minced garlic
onion  
chicken breast
sweet ham
paprika 
ground cayenne 
banana leaves or corn husk for wrapping 
hard-cooked eggs
green chilis
fresh red chilis
garlic
tomato /catsup 
onion
salt
EASY BIBINGKA
INGREDIENTS
eggs
MAYA Original Fluffy n' Tasty Hotcake Mix 200 grams
sugar
rice flour
fresh milk
coconut cream store bought
coconut milk store bought
butter 
salted egg 
cheddar cheese 
sliced ham
banana leaves for lining of pans optional
grated coconut optional
KITCHEN TOOLS NEEDED FOR THE CLASS:
Chopping board
8" Kitchen knives
Plates and bowls for prepared ingredients
Measuring cups and spoons
Rubber scraper
Mixing bowls
Sauce pot
Wooden spoon
Large sauce pan
Sauce pan
Cooling Rack
Tongs
9-inch baking pan
Mamon Molder or Cupcake molder
Banana leaves
Paper towel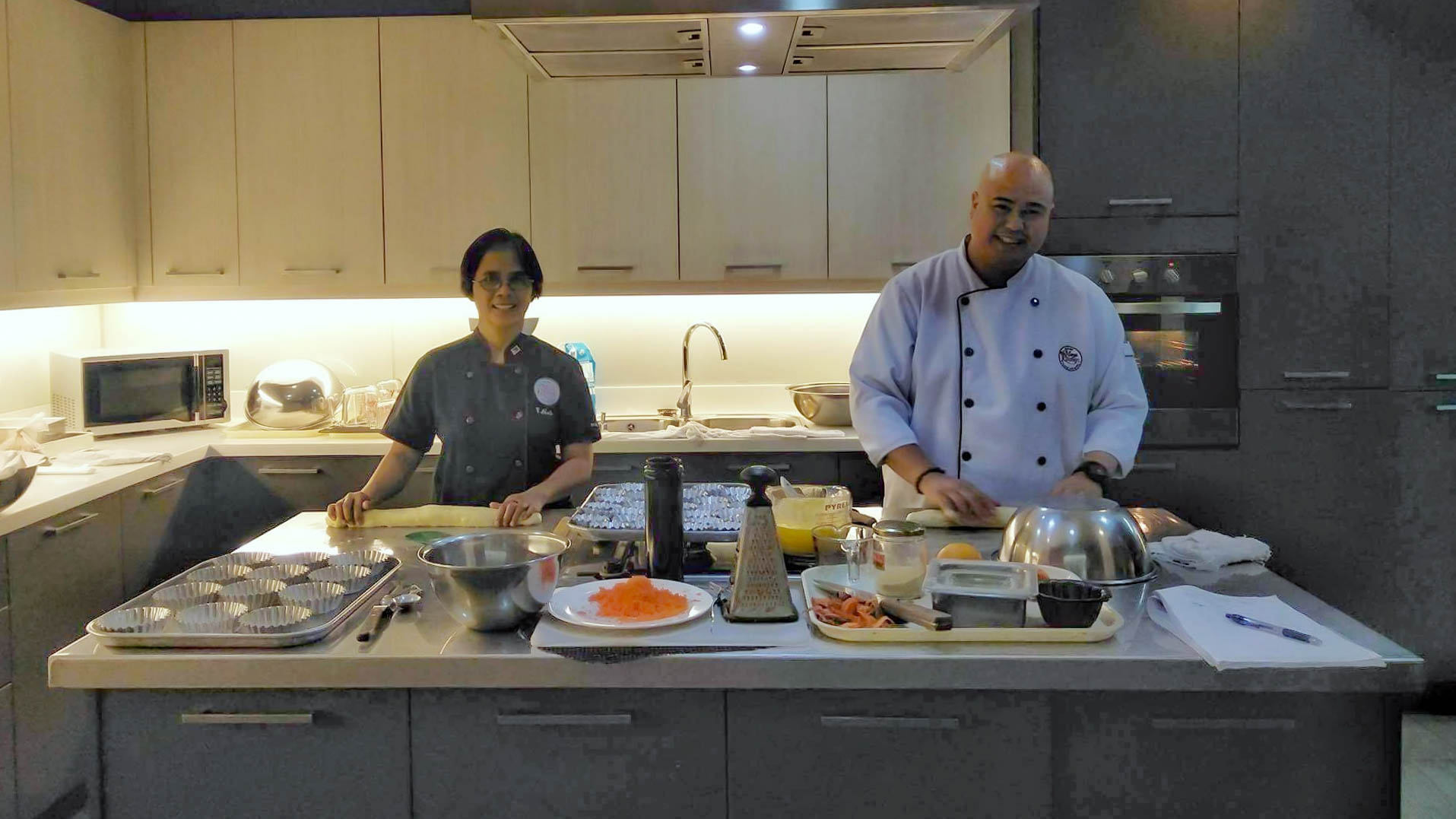 Our Chef Instructors
Chef Dan Wilford B. Libunao and Chef Elvie Ibale are both Maya Kitchen in-house Culinary Instructors. Chef Dan teaches Culinary Certificate Classes and also assist and teach some Baking class and Baking Certificate Classes.
Chef Elvie, on the other hand has been with Maya Kitchen for more than 20 years now. She teaches every baking related classes, from our Baking Certificate Classes, bread making to Special Cakes and Pastries to Fondant making and decorating.
How It Works
After you register and pay for the recorded class, we will send you the course outline, a recipe card, and preparation sheet (complete with shopping list, equipment needed and set-up tips)
Our chefs will be available to answer your questions on email.
Note: Payment becomes non-refundable once you have received the course outline, recipes, and shopping list which will be sent to you within 24 hours after payment verification.