Holiday Festive Dishes
Spanish Paella and Spanish Style Cochinillo
Brush up on your cooking skills and learn how to prepare new festive dishes for Noche Buena!
Join our in-house instructor Chef Dan as he teaches you how to make family-favorite Spanish Paella and Spanish-style Cochinillo that can be the next stars of your holiday feast. 
Paella is a classic Spanish dish made with rice, saffron, vegetables, chicken and seafood. Cochinillo, unlike the traditional lechon, is smaller in size—perfect for smaller family gatherings—and is also known for having tender, delicate meat.

You will need the following if you plan to participate in the class:
Requirements:
SPANISH PAELLA
olive oil
garlic
white onion
Spanish sausage
boneless chicken breast
lean pork, cubed
squid rings and tentacles
medium whole shrimps
crab
mussels
short grain rice or Japanese rice
paprika
chicken stock
tomato paste (or 1 teaspoon saffron)
salt and pepper
pimiento
green peas
hard-boiled egg
olive oil
lemon
SPANISH COCHINILLO
suckling pig (2 to 3 weeks old)
salt
Spanish Paprika (Optional)
minced or crushed
white onions
fresh thyme
bay leaves
white wine
Pork lard/Olive oil
water/stocks
KITCHEN TOOLS NEEDED FOR THE CLASS:
Chopping board
8" Kitchen knives
Plates and bowls for prepared ingredients
Measuring cups and spoons
Rubber scraper
Mixing bowls
Deep frying pan
Wooden spoon
Large sauce pan
Sauce pan
Cooling Rack
Tongs
Paper towel
Kitchen Turner
Roasting Pan
Paellera
Oven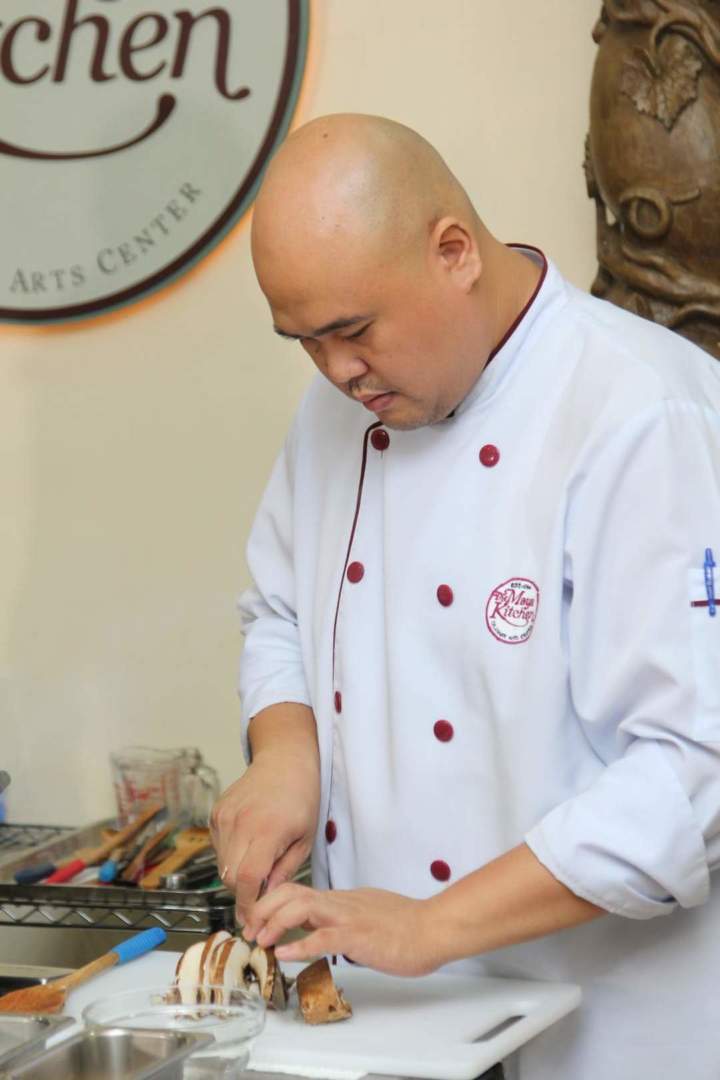 Our Chef Instructor
Chef Dan Wilford B. Libunao is one of Maya Kitchen in-house Chef Instructor, a Food Technologist and a Culinary Arts graduate, he teaches our basic culinary certificate classes and some of our culinary lifestyle classes. He is also one of the recipe researchers for some of our Maya Cook Books.
How It Works
After you register and pay for our live and interactive digital class, we will send you the course outline, a recipe card, and preparation sheet (complete with shopping list, equipment needed and set-up tips), so you can be ready to go when you log into the session via Zoom.
During the class, our chefs will walk you through the recipe steps and cook along with you, answering any questions you may have.
Whether you're on your own, coming as a pair, or are part of a bigger group, we've got you covered. Our classes cost are designed per household/device so if you want to work as a team, that's fine by us. If you're taking part with friends or family who live elsewhere, each household will need to book a place on the class.
Families are welcome to take part, but please be aware that these classes are designed with adults (unless specified otherwise) in mind. An adult must be present if anyone under the age of 18 is joining in.
Note: Payment becomes non-refundable once you have received the course outline, recipes, and shopping list which will be sent to you 2 days before the class.