Tempura And Karaage
(Ebi And Vegetable Tempura and Chicken Karaage)
Create authentic Japanese flavors in the comfort of your own kitchen with help from our experts!
Learn how to cook bento box favorites in our upcoming Maya Kitchen online class. Our chef instructors walk you through how to make Chicken Kaarage – crunchy deep-fried pieces of marinated chicken – and Ebi and Vegetable Tempura – shrimp and veggies lightly coated in batter and deep-fried to crispy perfection.
You will need the following if you plan to participate in the class:
Requirements:
INGREDIENTS
chicken thigh fillet cut into nugget size
salt
ground pepper
garlic 
Japanese soy sauce
sesame oil
MAYA All-Purpose Flour
MAYA Cornstarch
MAYA Cake Flour
dashinomoto (dashi granules)
baking powder
sugar
oil for deep frying
egg yolk
ice cold water
Oil 
mirin
Japanese soy sauce
brewed soy sauce
sake
water
shrimp
eggplant
sweet potato
squash
white onion
oyster mushrooms
ginger
radish
KITCHEN TOOLS NEEDED FOR THE CLASS:
Chopping board
8" Kitchen knives
Plates and bowls for prepared ingredients
Measuring cups and spoons
Rubber scraper
Mixing bowls
Deep frying pan
Wooden spoon
Large sauce pan
Sauce pan
Cooling Rack
Tongs
Paper towel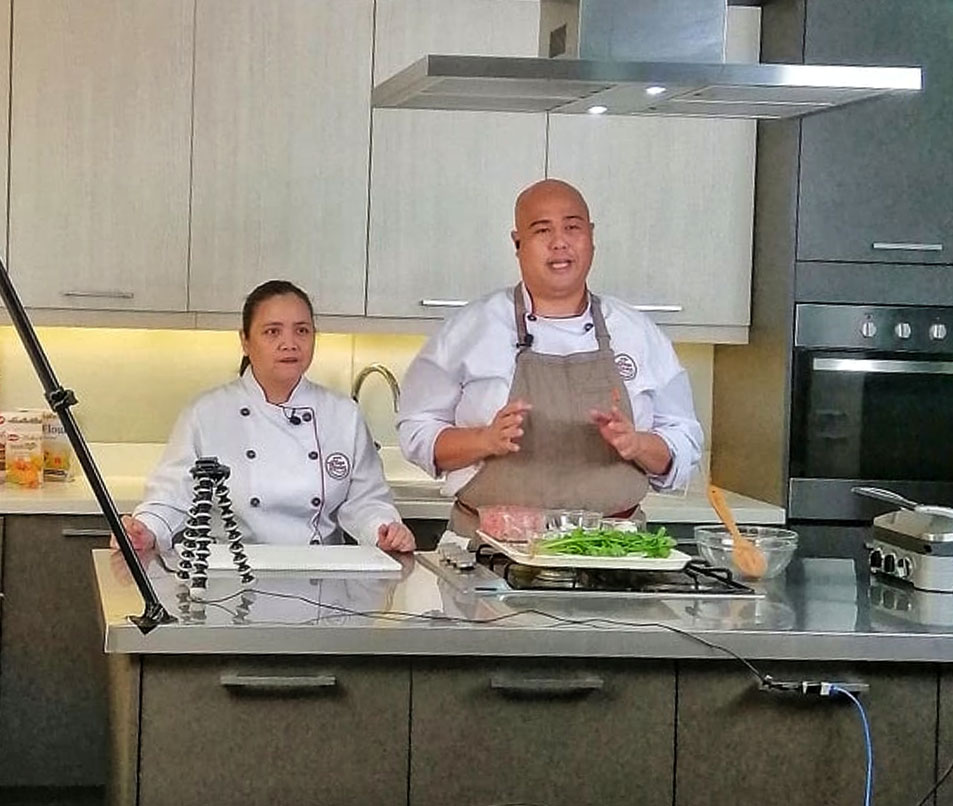 Our Chef Instructors
Chef Charina Cano and Chef Dan Wilford B. Libunao are both Maya
Kitchen in-house Culinary Instructors.
Chef Charina "Cha" is the Maya Kitchen Supervisor, and she's been with
Maya Kitchen for almost 14 years now in which she handles various
Culinary classes, specifically the Maya Kitchen's Cooking Class and
Culinary Certificate Classes.
Chef Dan on the other hand also teaches Culinary Certificate Classes and
also assist and teach some Baking and cooking class.
How It Works
After you register and pay for the recorded class, we will send you the course outline, a recipe card, and preparation sheet (complete with shopping list, equipment needed and set-up tips)
Our chefs will be available to answer your questions on email.
Note: Payment becomes non-refundable once you have received the course outline, recipes, and shopping list which will be sent to you within 24 hours after payment verification.