Pasta Making Online Cooking Class
ONLINE CLASS

Hankering for some Pasta Vongole or some good old meatballs pasta? Nothing beats freshly made pasta!
Learn all the secrets, tricks, and tips of making your own batch of handmade pasta at home. You can make it according to your tastes and even turn it into something healthier.
Plus, it simply is more flavorful than store-bought options. Our chef instructors will teach you how to make it by hand from scratch with simple tools, plus two special sauces you can easily pair with your handmade pasta!
You will need the following if you plan to participate in the class:
PASTA CON VONGOLE, SHRIMPS AND  ROASTED CHERRY TOMATOES IN WHITE WINE
cherry tomatoes
extra-virgin olive oil, divided
butter
garlic 
white shrimps
crushed red pepper flakes
clam stock or water 
white wine
Manila clams
fresh flat-leaf parsley
cooked pasta
lemon (optional)
Parmigiano Reggiano or Pecorino cheese (optional)
MINI BURGER MEATBALLS IN BOLOGNESE STYLE SAUCE
Burger Meatballs:
lean ground beef
onion
egg
parsley
MAYA All Purpose Flour
Dijon mustard
liquid seasoning
Salt and pepper to taste
Bolognese Sauce:
olive oil
butter
onions
garlic
medium-sized carrot
celery
bayleaf
fresh thyme
tomato paste
crushed tomatoes 
beef stock
red wine
fresh basil leaves
salt and pepper 
cooked fresh pasta
fresh parmesan
KITCHEN TOOLS NEEDED FOR THE CLASS:
Plates and bowls for prepared ingredients
Measuring cups and spoons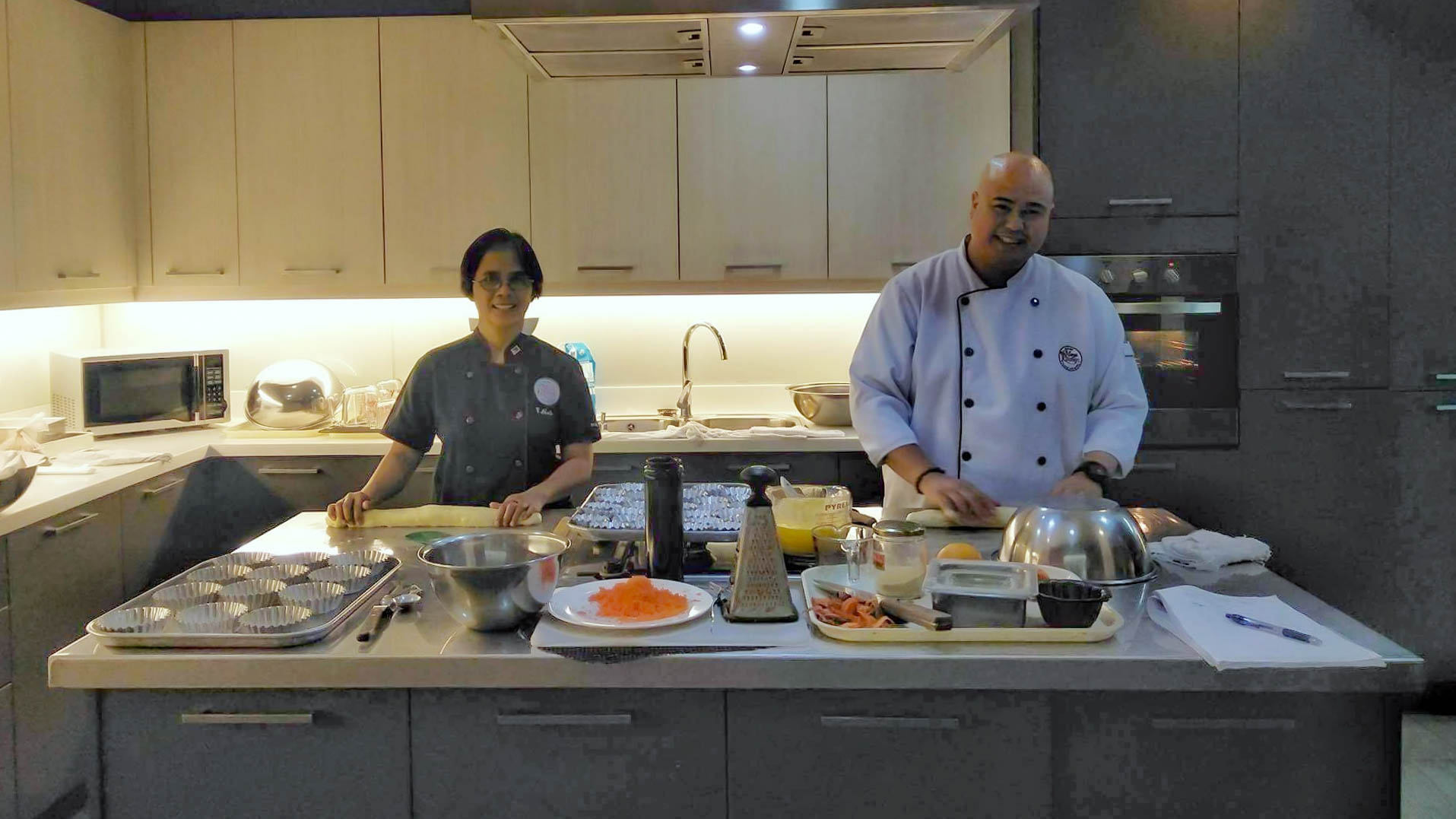 Our Chef Instructors
Chef Dan Wilford B. Libunao and Chef Elvie Ibale are both Maya Kitchen in-house Culinary Instructors. Chef Dan teaches Culinary Certificate Classes and also assist and teach some Baking class and Baking Certificate Classes.
Chef Elvie, on the other hand has been with Maya Kitchen for more than 20 years now. She teaches every baking related classes, from our Baking Certificate Classes, bread making to Special Cakes and Pastries to Fondant making and decorating.
How It Works
After you register and pay for the recorded class, we will send you the course outline, a recipe card, and preparation sheet (complete with shopping list, equipment needed and set-up tips)
Our chefs will be available to answer your questions on email.
Note: Payment becomes non-refundable once you have received the course outline, recipes, and shopping list which will be sent to you within 24 hours after payment verification.
For pre enrollment questions, please email us at [email protected] or pm us at Facebook.com/Mayakitchen.