Coffee Paired Breads
Sticky Cinnamon Roll and Pesto Chicken Stuffed Bread
Learn to make the best baked goods to pair with your cup of coffee! In this virtual class, our guest instructor Chef Heart shows you how to create soft Sticky Cinnamon Rolls with a gooey filling, along with a delicious and savory Pesto Chicken Stuffed Bread. Both are sure to match nicely with your morning brew.

STICKY CINNAMON ROLLS
INGREDIENTS
fresh milk, warm to room temperature
instant dry yeast
melted butter
white sugar
eggs
MAYA All-Purpose Flour
salt
Filling:
unsalted butter, softened
dark brown sugar
cinnamon powder
nutmeg powder
salt
chopped roasted nuts of your choice
Cream Cheese glaze:
cream cheese softened
butter, softened
confectioner's sugar
evaporated milk / fresh milk
salt
vanilla
CHICKEN PESTO STUFFED BREAD
INGREDIENTS
fresh whole milk
water
instant dry yeast
sugar
salt
unsalted butter, melted
MAYA All-Purpose Flour
Melted butter, for greasing the bowl
Fine Bread crumbs, for coating
Pesto:
fresh basil, washed and dried
cloves garlic
cashews, toasted
parmesan cheese, grated
olive oil
Salt and pepper, to taste
For chicken pesto filling:
Prepared pesto
cooked chicken, chopped or shredded
mozzarella cheese, grated
PREPPING UP YOUR KITCHEN
To ensure you get the best out of our class, it is important that you prepare and measure all your ingredients in advance and portion it out before the class starts.
Make sure to have the tools and equipment cleaned, properly working and ready for our class.
You will need a table or area in your kitchen where you can work well and a spot to put your gadget/computer for the class.
During class, kindly wear comfortable clothes. Also wear an apron and tie long hair. It is also helpful to have a kitchen towel on hand for easy cleanup.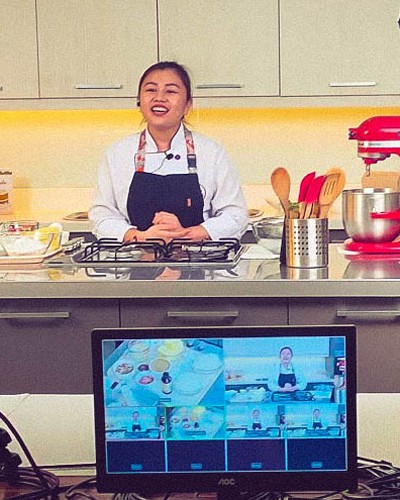 Our Chef Instructor
Chef Heart Cadiente is one of Maya Kitchen guest instructor, a Registered Nutritionist Dietician, she is a former Research and Demonstrator of The Maya Kitchen Culinary Arts Center but now, she opted to pursue her dreams to be a business proprietor having her own baking ingredients supply shop and a made to order cakes and pastries.
How It Works
After you register and pay for our live and interactive digital class, we will send you the course outline, a recipe card, and preparation sheet (complete with shopping list, equipment needed and set-up tips), so you can be ready to go when you log into the session via Zoom.
During the class, our chefs will walk you through the recipe steps and cook along with you, answering any questions you may have.
Whether you're on your own, coming as a pair, or are part of a bigger group, we've got you covered. Our classes cost are designed per household/device so if you want to work as a team, that's fine by us. If you're taking part with friends or family who live elsewhere, each household will need to book a place on the class.
Families are welcome to take part, but please be aware that these classes are designed with adults (unless specified otherwise) in mind. An adult must be present if anyone under the age of 18 is joining in.
Note: Payment becomes non-refundable once you have received the course outline, recipes, and shopping list which will be sent to you 2 days before the class.