Celebrating Valentine's Day is all about grand romantic gestures. And while dinner for two at a fancy restaurant may seem like a good idea, it's also everyone else's good idea. Why contend with the traffic and crowds when you can whip up your own intimate dinner at home? Make it even extra special with these Valentine's Day Surf and Turf recipes from The Maya Kitchen's archive. 


What, you ask, is a surf and turf?
"Surf and turf" refers to a type of dish (usually the main course) that combines meat and fish. It's a tricky mix because you need to balance the distinct flavors of both. When done right, it's an extraordinary meal; and you shouldn't settle for anything less when it comes to your special someone. Get ready to make this Valentine's your most memorable yet!

Appetizer: Rellenong Tahong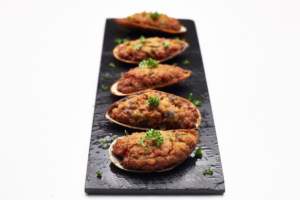 Relleno is usually associated with chicken, but our Rellenong Tahong puts a seafood spin to this Pinoy favorite. Our recipe combines mussels with ground pork and bacon, with choice veggies and cheese adding to the melt-in-your-mouth experience. The mixture is coated in breadcrumbs and placed on mussel shells. This makes for a great appetizer to kick off your meal, because first impressions last!
Soup: Tempura and Pork Shoyu Ramen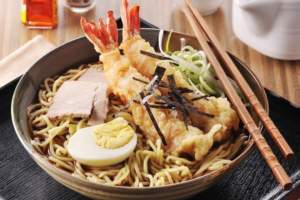 In the last few years, ramen has taken the country by storm, and many restaurants claim to serve the best of the best. But have you tried making your own? Don't be intimated, because our home-cooked ramen recipe tastes amazing! Thin slices of braised pork and noodles topped with crispy tempura bathe in a rich broth made even more flavorful with soy sauce. It's a bit filling, so we recommend smaller servings to make room for the main course.
Main Course: Seafood Paella Negra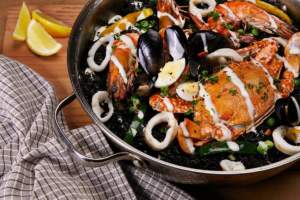 Here's the first of two main course options for your Surf and Turf Valentine's Day dinner. Our recipe for Seafood Paella Negra is a symphony of squid, prawns, mussels, and soft-shelled crabs with rice dyed black by squid ink. However, no paella is complete without the Spanish sausage chorizo de bilbao. It's a hearty and delicious dish your date will surely fall in love with! 
Main Course: Arroz Caldoso by Chef Luis Chikiamco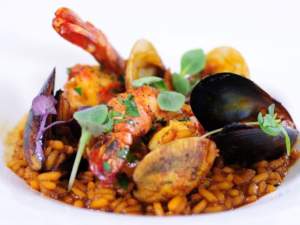 Similar to Seafood Paella, except it combines the sweetness of shellfish with the hearty and rich flavor profile of Jamon. The recipe calls for arborio rice, which is plumper and shorter and Italian in origin, often used as a substitute for risotto. Pimenton dulce, or Spanish paprika, gives it a spicy kick and its yellow-orange color. This surf and turf dish would be an ideal match to your Valentine's Day menu. 
From Filipino cuisine, to Japanese, and now Spanish! How's that for a global dining experience? 
Help! I'm not confident with my cooking skills!
We got you. Consider taking a class especially for Valentine's Day, because practice makes perfect!
The Maya Kitchen is offering two courses. The first is with Chef Noel de la Rama, a private chef known for his delectable spreads;  perfect for those who entertain at home. Cheat your way to a Valentine's dinner with the Pre-Valentine Special Cooking Class: "Cooking for your Bae" on February 8 at The Maya Culinary Arts Center in Makati. Find out what recipes you'll be learning here. 

The second class is The Maya Kitchen's Valentines Couples Cooking Class, to be held on February 15. Learn how to cook  with your special Valentine and enjoy what you made together. It's a bonding experience you'll never forget and a unique way to celebrate the occasion.  Click here to find out more about the course.

Let us know how your Surf and Turf Valentine's Day dinner at home goes by leaving a comment below. Happy Hearts Day from The Maya Kitchen!