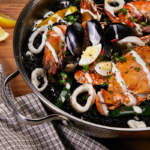 Seafood Paella Negra
Ingredients
2 to 3

pieces

chicken cubes

12

cups

water

2

tablespoons

cooking oil

3

tablespoons

olive oil

150

grams

chorizo de bilbao

2

pieces

large-sized onions

diced and peeled

2

tablespoons

garlic

minced

2

pieces

big squid

ink sac carefully removed and placed in a bowl, squid flesh sliced into

rings

tentacles sliced into inch pieces

red pepper flakes

as needed

3

cups

Japanese rice

1

can whole peeled or crushed tomatoes

1

pack

4 grams prepared squid ink (If using)

salt and pepper to taste

lemon wedges

garnish

steamed mussels

hard-boiled eggs

steamed prawns

steamed soft shelled crabs

aioli sauce

optional

flat leaf parsley

for garnishing
Instructions
Dissolve chicken cubes in water to create a chicken stock.

Oil the paellera and make sure your cover all the surface with oil.

Over medium heat, heat the paellera and add olive oil. Fry chorizo for about 4 minutes or until the "reddish" oil from the chorizo comes out. Remove the fried chorizo from the paellera using a slotted spoon. Set aside.

Using the same pan, sauté onions until aromatic and translucent in color.

Add garlic and continue sautéing for another 20 seconds. Add red bell pepper and squid meat until tender, remove the cooked squid from the pan using again a slotted spoon.

Add Japanese rice and sauté it, until rice grains are coated with the oil.

Add tomatoes and 4 cups of prepared chicken stocks, stir well until chicken stocks is absorbed by the grains, risotto style. Add squid ink and continue stirring and slowly add the remaining chicken stocks. Put back into the paellera the cooked squid and stir. Let the rice cook with occasional stirring, then season with salt and pepper.

Place on top of the cooked paella the steamed mussels, hard boiled eggs, steamed prawns and steamed crabs.

Serve with lemon wedges, drizzle aioli sauce and garnish with flat leaf parsley.
Recipe Notes
Yield: 8 to 10 servings