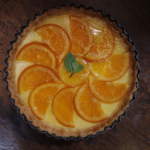 Au Bon Vivant Orange Tart
Ingredients
Páte Sucrée:
2

cups

all-purpose flour

½

cup

sugar

¼

cup

butter

cubed

¼

cup

shortening

1

piece

egg

beaten

1

tablespoon

cold water
Orange Topping:
1 ½

cups

sugar

1 ½

cups

water

3-4

pieces

seedless oranges

sliced thinly with the rind
Crème Pâtissière:
¼

cup

sugar

1/3

cup

cornstarch

1

tablespoon

all-purpose flour

5

pieces

egg yolks

2 ½

cups

full-cream milk

¼

teaspoon

vanilla extract

2

tablespoons

Cointreau
Gelatin Glaze:
1

tablespoon

unflavored gelatin

½

cup

cold water

½

cup

orange syrup

from boiling oranges

1

teaspoon

Cointreau
Instructions
Prepare Páte Sucrée:
In a bowl, blend flour, and sugar. Cut in butter and shortening with a pastry blender or two dinner knives. Pour in beaten egg and water. Stir with a fork to moisten flour evenly, then gather pieces to compress and form into ball of dough. Wrap dough in plastic cling wrap and leave to rest in the refrigerator to 20-30 minutes.

Roll out chilled dough evenly between two sheets of wax paper. Invert a 9-inch pie plate on the dough and cut into a size 1-inch bigger than the pie plate.

Fit the dough onto the pie plate. Fold edges and flute or crimp around the rim. Prick bottom crust lightly with fork. To prevent dough from puffing up, put sheet of baking paper and spread some dried beans on top.

Bake pie crust in a preheated 375⁰F oven for 30-40 minutes, or until lightly browned. Leave to cool.
Prepare the Orange Topping:
Combine the sugar and water in a medium sauce pan.

Simmer over medium heat. Once sugar is dissolved, add the sliced oranges.

Turn heat to low and simmer for 1 hour.
Prepare Crème Pâtissière:
In a saucepan, combine sugar, cornstarch, flour, and egg yolks. Pour milk and stir in vanilla and Cointreau. Transfer cream to a bowl to cool. Cover with plastic cling wrap on the surface to prevent skin from forming on top.

Remove orange slices from the pan and arrange on a baking sheet or tray to dry out for 30 minutes to an hour. Reserve ½ cup of the orange syrup.
Prepare the Gelatin Glaze:
Combine gelatin with cold water and leave to bloom for few minutes. Add reserved orange syrup and heat for 1-2 minutes. Remove from heat and stir Cointreau.

Pour cream filling into the baked crust and smoothen the top. Arrange slices in a circular pattern over the filling. Brush orange topping with the gelatin glaze. Chill Au Bon Vivant Orange Tart before serving.
Recipe Notes
Variation: For an easier, but mildly-flavored Orange Tart, use canned Mandarin oranges instead of fresh oranges. Skip steps 5 and 7. Use syrup from the can to make the gelatin