It's one thing to eat what's served in a cup, but it's an entirely different thing to eat the cup itself, too! While the edible cup concept has been around for a while, they've recently been taking the food world by storm. They're just too Instagram-worthy to pass up! Admit it. The idea of eating a container is just so cool. And it's also a great way to lessen your carbon footprint. Instead of using paper or plastic cups, make something you can dispose of with a clear conscience.
In line with this, we're presenting some genius food cup ideas that we've sourced from the Internet that you can try out in your test kitchen. These five sweet food cup ideas are so easy to make and even easier to eat!
#1 Edible Coffee Cups
If there's one thing that goes well with coffee, it's a cookie plate to munch on. Forget serving them on the side and serve your coffee in a cookie cup instead. For this edible idea, it's best to go for a rich espresso.
You'll need butter, raw sugar, a pinch of salt, a dash of Vanilla extract, an egg yolk, some dark chocolate, and of course, Maya All-purpose Flour.
Combine the dry ingredients with one egg yolk and knead the mixture to form a solid dough mixture. Roll this out and cut into rectangles. Place it inside metal baking tins and refrigerate, then bake. Heat your dark chocolate and paint the inside of the cups with it.
Once the chocolate has hardened, pour in some of your favorite espresso and enjoy! This idea was sourced from the Kitchen Stories website. Check out the full recipe here.
#2 Cheesecake Edible Cups
We were totally impressed by these edible cups from the Food Hacks website (They've got more food cup ideas, by the way.). Imagine how tasty apple cups stuffed with cheesecake are. Their recipe uses hollowed out apples to form a sturdy and delicious cup for their cheesecake stuffing.
You can opt to follow their recipe for no-bake cheesecake or try our Maya Kitchen recipe for cheesecake. One thing is for sure, Snow White wouldn't mind taking a bite out of these.
#3 Colorrific Cookie Shots
This one comes straight from the Maya Kitchen's archive of goodies! These are perfect during kiddie parties or just when you're in the mood for something sweet and fun.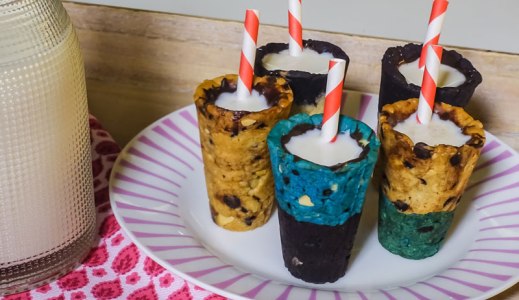 Similar to Edible Coffee Cups, our Colorrific Cookie Shots are basically chocolate chip and cashew nut dough pressed onto shot glasses to shape them into cups, then coated with melted chocolate and filled with a healthy serving of fresh milk! Food coloring gives you the creative license to make a rainbow of edible possibilities.
Plus, it's a surefire way to get your kids to drink their milk and then some.
Want to share your own edible cup idea? Leave a comment below and don't forget to let us know how your take on these edible cup ideas turned out.