Pancakes for merienda? Definitely! We at The Maya Kitchen did our research and were pleasantly surprised to discover that, although considered breakfast fare in most Western countries, especially in the U.S., pancakes have actually evolved into a Filipino merienda staple. Of course this doesn't mean we don't also enjoy a batch or two for breakfast.
A good merienda should stave off those hunger pangs until it's time for dinner, so it's got to be light yet satisfying. It's also a good idea to serve the kids something more substantial that isn't chockful of sugar, which brings us back to the subject of pancakes.
The best part is that you aren't limited to sweet fruit toppings and different flavors of syrup. They can actually be a savory meal, especially in Asia.
For instance, in China, their version of pancakes is eaten with roast duck, sauce, and sprinkled with chopped scallions. In Japan they serve a type of pancake referred to as oyaki filled with red bean paste and veggies like eggplant, while the Nepalese enjoy a type of pancake made from rice called chataamari, which is topped with meat and eggs.
Not to be outdone, The Maya Kitchen has come up with another savory pancake recipe. Our chefs sat down and debated on what ingredients to use and finally decided on chorizo combined with choice veggies to up the nutritional value for your kids.
Chorizo, for those who are not familiar, originates from Spain. It is a pork sausage that Filipinos have adopted into our cuisine, more commonly known as longganiza (though they still refer to it in the Visayas as chorizo).
So without further ado, here is our savory Stuffed Chorizo Pancake recipe. It's so easy to prepare and we're sure your kids will give it a big thumbs up! This recipe serves seven.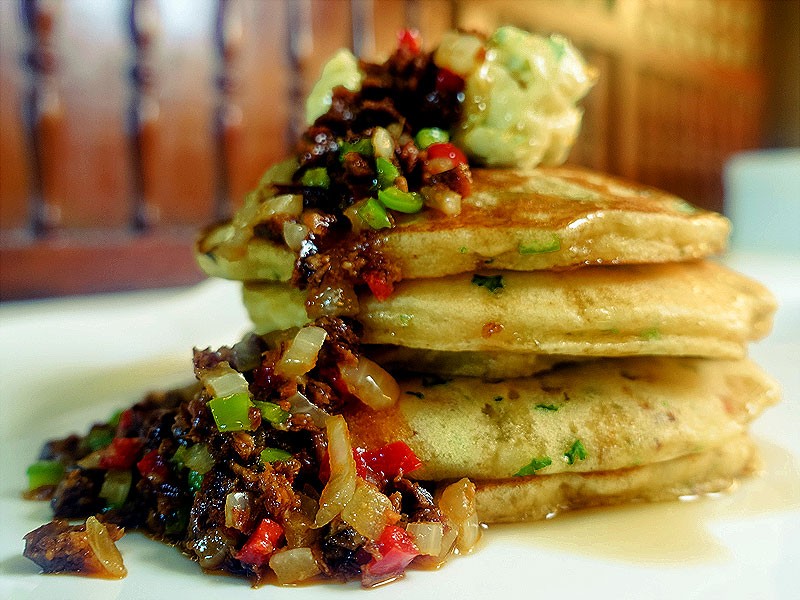 Stuffed Chorizo Pancake recipe here
Want some more savory pancake ideas? Just add you favorite meats! Try it with ham, spam, or bacon. Cheeses like kesong puti or cheddar work great, and veggies like spinach or kalabasa (squash) can make your pancake meal feel more like a light lunch or dinner rather than dessert. Come to think of it, you could serve a large batch of our Stuffed Chorizo Pancakes for lunch or dinner as it has all the components of a meal. No need for rice!
Your savory pancakes can take on the style of your favorite dishes. If you're a big fan of breakfast with hash browns, bacon and eggs, add some mashed potato to your pancake batter and serve with bacon and scrambled eggs. Love Mexican food? Add some shredded chicken, chilies, and avocado (Ooooohhh guacamole!) to your batter. The possibilities are endless. Think big and enjoy!