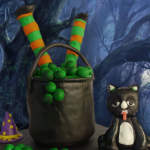 Wizard's Cauldron Cake
Ingredients
Butter Cake
1 1/2

cups

salted butter

1 1/2

cups

sugar

2

teaspoon

vanilla extract

6

pcs.

whole eggs

separated

1/4

cup

liquid milk

2 1/4

cups

MAYA All-Purpose Flour

2 1/4

teaspoons

baking powder
Italian Meringue Buttercream
1 3/4

cup

white sugar

1/2

cup

water

8

egg whites

(30 grams each egg white)

3 1/2

cups

butter

1

teaspoon

vanilla extract
Marshmallow Fondant
450

grams

white marshmallows

3

tablespoons

water

800

grams

confectioners' sugar

1/4

cup

vegetable shortening
Rice Crispy Treats
4

cups

rice krispies

5

cups

mini marshmallows

1/4

cup

unsalted butter
Instructions
Butter Cake
Preheat oven at 170C. Line a 9" round pan tin.

Cream butter, sugar until light.

Add in eggs one at a time and beat till creamy. Add in milk and vanilla. Mix well.

Sift in flour, salt and baking powder and mix well. Set aside.

Pour batter into lined baking pan and bake for 40-45 minutes or until done.
Italian Meringue Buttercream
In a small saucepan over medium heat, bring sugar and ½ cup water to a boil.

Heat up to 230 degrees on a candy thermometer.

Whip egg whites until stiff. Do not over beat.

When the sugar temperature reaches 240 degrees, remove from heat immediately and with the mixer running, add it to your egg whites in a stream. Beat on high speed.

Continue to whip until no heat remains in the bowl.

With the mixer still running, add butter bit by bit, beating until spreadable consistency, approximately 3 to 5 minutes. Beat in vanilla.

Set aside until ready to use.
Marshmallow Fondant
In a microwaveable bowl, combine marshmallows and water. Melt the mixture, mix every 30 second or intervals.

Gradually add confectioners' sugar alternately with shortening until it forms a dough.

Cover with a cling wrap and rest for about 4 hours before using.
Rice Crispy Treats
In a saucepan, melt the butter. Add marshmallows and stir to melt.

Remove from heat and pour in to the rice krispies.

Mix all together very well to coat the krispies with the melted marshmallow.

Press the mixture very firmly, then refrigerate for at least 2 hours. Otherwise wait for the mixture to cool enough to handle, and start modeling into the desired shape.
Assembly of the cake
Stack 4 to 5 layers of butter cake, spreading the buttercream in between layers. Cover the whole cake with the icing. Refrigerate for an hour. Carve into a cauldron shape.

Color the fondant accordingly, black, orange and green.

Roll a black fondant enough to cover the cauldron. Cover the cake.

Mold black fondant into a shape of a cauldron handle. Attach into the sides of the cake.

Roll a green fondant and cut it into a size that would fit the top of the cauldron.

Use the rice krispies to mold into small balls, this would be the contents of the cauldron. Cover it with some of the green fondant.

Attach these small green balls on the top of the cauldron.

With the remaining of the fondant, use your creativity to add up other characters to the cake, a cat, a wizards hat or a wizard's legs.