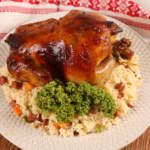 Whole Roast Chicken Inasal With Chorizo Rice Stuffing
Ingredients
1

whole chicken

cleaned

salt

as needed
Marinade
½

cup

sinamak or pure coconut vinegar

1

cup

soda

2-3

tablespoons

soy sauce

1

whole head garlic

minced

1-2

teaspoons

freshly roasted peppercorns

crushed

1

tablespoon

ginger

minced

1/3

cup

brown sugar

2

stalks lemon grass

chopped

Juice of 10 pieces calamansi

salt

as needed
Basting Sauce
¾

cup

oil

1-2

tablespoons

garlic

minced

¼

cup

clarified butter

¼

cup

annatto seeds

left-over marinade mixture
Chorizo Rice
2

tablespoons

olive oil

2

tablespoons

clarrified butter

1

tablespoon

minced garlic

1

piece

medium-sized onion

finely chopped

1

piece

chorizo

finely chopped

½

cup

carrots

peeled and diced

½

cup

frozen peas

4-5

cups

left-over cooked rice

¼

cup

spring onions

finely chopped

2

tablespoons

parsley

finely chopped

Salt and pepper to taste
Instructions
Roast Chicken Inasal
To prepare the chicken inasal, rub chicken with salt. Set aside.

In a glass bowl, put all the marinade ingredients and mix well.

Immerse the salted chicken in prepared marinade for at least 6 hours or for better flavor marinate the whole chicken overnight.

Get the whole marinated chicken and drain the excess liquid then stuff with prepared chorizo rice stuffing.

Bake in a preheated oven over 350F/177C for 1 ½ – 2 hours basting the chicken with annatto garlic oil from time to time until cooked and roasted.

To prepare the basting sauce the annatto garlic oil, heat up oil in medium heat then add in the annatto seeds. Once the oil turns red, turn off heat then strain the seeds.

Put a little amount of prepared annatto oil in a pan and cook garlic until aromatic. Lower the heat, then add in the butter. Once the butter has been melted, mix in the rest of the annatto oil. Turn off heat. Set aside to cool down. Add a small amount of left-over marinade to the annatto oil (optional). Set aside for later use as basting,
Chorizo Rice
Heat oil and butter in a pan and sauté garlic until lightly toasted then add in the onion and continue cooking until the onion becomes aromatic and translucent.

Toss in the chorizo and carrots keep stirring until the oil from the chorizo comes out.

Add in the rice then keep tossing until the oil fully covers the rice.

Add in the peas, spring onions and parsley, give a nice stir until all ingredients are well distributed.

Season the rice according to your taste.
Recipe Notes
Roast Chicken Inasal
Yield: 6-8 servings
Prep time: few hours – overnight
Cook time: 1 ½ – 2 hours
Chorizo Rice
Yield: 6 servings
Prep time: 10 minutes
Cook time: 15-20 minutes