From the article "Healthy Hacks for Dieters"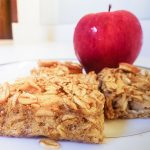 The Whole Grain Snack
Ingredients
1/2

cup

egg whites

1/4 + 2

cup + tablespoons

coco sugar

3/4

cups

skimmed milk / fat-free milk

1/2

tablespoon

melted margarine

1/4

cup

MAYA All-Purpose Flour

1/2

teaspoon

baking powder

1/4

teaspoon

cinnamon

3/4

cup

rolled oats

1/2

piece

apples

chopped
Instructions
Procedure:
Preheat oven to 350⁰F/177⁰C. Grease and Line a 9x5-inch rectangular pan with waxed paper.
In a bowl, blend together egg whites and coco sugar. Add milk and margarine.

In another bowl, sift together flour, baking powder and cinnamon. Add in oats.

Combine wet mixture to the dry mixture.

Fold in ½ of the chopped apples into the mixture.

Pour into the prepared pan. Decorate top with the remaining apples.

Bake for 30-40 minutes or tooth pick inserted at the center comes out clean.
Recipe Notes
Healthy Tip: Increase the bulk in your favorite bar recipe. Utilize a major portion of rolled oats in the ingredients. It will give a feeling of fullness after you eat, clean up your digestion and keep your heart healthy.