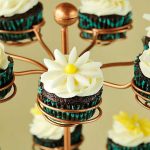 Wedding Flower Cupcakes
Ingredients
6

packages

MAYA Chocolate Hotcake Mix 200g
Buttercream Frosting:
½

cup

butter

½

cup

shortening

780

grams

powdered sugar

½

cup

milk

1

teaspoon

vanilla extract
Fondant:
1 ½

tablespoons

unflavored gelatin

2

tablespoons

cold water

1 ½

teaspoons

shortening

¼

cup

glucose

1 ½

teaspoons

glycerine

1

pound

powdered sugar

yellow gel food color

candy pearl beads

gold dust food powder

(optional)
Instructions
Preheat oven to 350°F/177°C. Prepare MAYA Chocolate Hotcake Mix according to package direction but use greased and lined 3 ounces muffin tins instead and bake for 15-20 minutes or until cupcake is done. Cool and set aside.
Prepare Butter cream Frosting:
In a mixer bowl, cream butter and shortening until smooth. Add in powdered sugar alternately with milk and vanilla. Mix until smooth. Set aside.
Prepare Fondant:
Combine gelatin and water and heat until gelatin is dissolved. Remove from heat and add shortening, glucose and glycerine. Stir until well blended. Place powdered sugar on a clean working surface and make a well at the center. Pour heated mixture into the center. Using a wooden spoon, slowly incorporate the liquid into the powdered sugar. When dough gets heavy, knead fondant until smooth and pliable. Get a small portion of fondant and tint with yellow color to create small beads for flower center. Set aside. Roll out the rest of fondant dough on a cornstarch dusted working surface until ¼ inch thick then make flower cut out using cookie cutter. You can tint some yellow and leave others white.
To Assemble:
Using star tip, pipe butter cream frosting on top of each cupcake. Place the cut out flowers fondant on top of the frosting and place a yellow bead at the center. If using yellow flower fondant, place white bead in the middle. Lightly dust flower petals with gold dust for a shimmering effect.