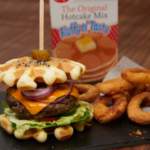 Waffle Burger
Ingredients
For Burger Patties:
500

grams

ground beef

1

tablespoon

parsley

chopped

1

piece

onion

finely chopped

2

tablespoons

Dijon mustard

1

tablespoon

Worcestershire sauce

1/8

cup

Maya All-Purpose or bread crumbs

1

piece

egg

Salt and pepper to taste
For Waffle:
3/4

cups

water

1

piece

egg

2

tablespoons

oil

1

tablespoon

MAYA Cornstarch

1

pack

MAYA "Fluffy n' Tasty" Original Hotcake Mix

200 grams

2

teaspoons

black sesame seeds
Enough oil for cooking

4

pieces

cheddar cheese slices

Enough tomato ketchup and yellow mustard

for spreading

Enough lettuce, sliced tomatoes, cucumbers & onions
Instructions
Place all the ingredients for making burger patties in a bowl and mix until well blended.

Divide and shape meat mixture into 4 round patties. Set aside and place in the refrigerator for later use.

Prepare waffle by combining first three ingredients until well blended and mix.

Add in the cornstarch and hotcake mix into the liquid mixture and beat until slightly lumpy, do not over mix the mixture.

Pour ¼ cup of hotcake mixture at the center of a preheated waffle maker machine and drizzle top with small amount of black sesame seeds before pressing the machine. Cook until golden brown and repeat procedure until all batter is consumed.

Cook one burger patty at a time in a lightly oiled pan over medium-heat around 3-5 minutes on both sides. Make sure once the burger patty touches the hot pan there should be a sizzling sound and once you flip there should be a brown-seared mark on each side of the patty. Before getting the burger into the pan, place on top of the burger the sliced cheese to lightly melt it then transfer right away into the waffle.

To assemble the waffle burger, get a piece of waffle then spread on top with tomato ketchup and yellow mustard. Lay a piece of lettuce top with sliced tomato and cucumber then place over the cooked burger patty with a cheddar cheese on top with thinly slices of red onions and pickles(optional). Cover with another waffle then serve right away.
Recipe Notes
Prep Time: 15 to 20 minutes
Cooking Time: 30 to 35 minutes
Yield: 4 servings