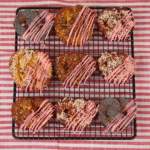 Valentine Soft Pretzels
Ingredients
¼

cup

brown sugar

1

cup

warm water

2 ½

teaspoons

instant yeast

2

tablespoons

vegetable oil

2 ¾

cups

MAYA All Purpose Flour

½

teaspoon

salt

¼

cup

MAYA All Purpose Flour

½

cup

baking soda

9

cups

water

1

piece

beaten egg with 1 tablespoon water

sea salt, poppy seeds, or sesame seeds

(optional for topping)

walnut sugar crunch

1/4 cup finely chopped walnuts and 3 tablespoons brown sugar
Instructions
In a bowl, combine sugar and water until well blended and let sugar fully dissolved. Add yeast and stir lightly. Let it stand for 3-5 minutes until yeast become foamy. Add oil, half the amount of flour and salt. Stir and blend well, the dough will become sticky and wet.

Place a little amount of the remaining flour on a working surface and knead to form a ball of dough. Continue kneading until the remaining flour has been used and the dough become smooth and does not stick anymore.

Place the pretzel dough in an oiled bowl and cover with cling wrap. Rest dough for 30-45 minutes in a warm place until it double in size.

Preheat oven to 450°F/225°C. Line two cookie sheets with greaseproof paper. Set aside.

Get the rested dough and lightly press the dough at the center to release some air and knead on a lightly floured surface. Divide dough in 20-24 pieces (25-30gms each) then roll and shape into sticks or rope. Make a U-shape while holding both ends of the dough then twist the end or make double knots and fold over to create pretzel shape. Rest shaped dough for another 10-15 minutes.

Place baking soda and water in a big pot and bring to a boil. Dip and cook the puffed pretzels for half a minute turning it once. Remove pretzels with the use of a big slotted spoon place it on top of a clean cloth. Place and arrange each pretzel on a prepared cookie sheets giving enough space for puffing.

Brush each pretzel with beaten egg-water mixture then drizzle top with sea salt, poppy seeds or sesame seeds or cover pretzels with walnut sugar crunch.

Bake for 400°F/205°C. 10-15 minutes.
Recipe Notes
Yield: 20-24 pieces
Prep Time: 1 hour and 30 minutes
Bake Time: 15-30 minutes