Soft, cheesy, and buttery. But wait, there's more! Make your ensaymada pop with an ube surprise inside. This Ube Ensaymada is a uniquely Filipino pastry coated with butter, sugar, and a sprinkling of cheese. It's perfect to pair with tea or coffee, and great to share with your friends or family.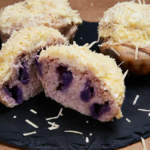 Ube Ensaymada
Ingredients
1

tablespoon

yeast

1/2

tablespoon

sugar

1/2

cup

warm water

4

egg yolks

1/2

cup

sugar

1/4

cup

milk

1/2

teaspoon

salt

1/2

cup

melted butter

400

g

store-bought ube halaya

3-3 1/2

cups

MAYA All Purpose Flour

grated cheese

store-bought ube halaya

melted butter for brushing

sugar for dusting
Instructions
In a mixer bowl, dissolve yeast and sugar in half of the water. In a bowl, combine the remaining water, eggyolks, sugar, milk, salt, melted butter, ube halaya and half of the flour. Stir in yeast mixture. Mix until dough until it is smooth and elastic. Put dough in a greased bowl, cover and let rise until doubled.

Brush ensaymada moulder with butter. Set aside.

Divide dough into balls weighing about 50-60 grams each (for regular ensaymada) or 30 grams (for mini ensaymada). Roll out each portion very thinly into a rectangle. Brush with butter, spread ube halaya and sprinkle with grated cheese.

Roll as in jelly roll into long rope. Hold one end of the rolled dough between your thumb and 2 fingers. Tuck in the end under. Put coiled ensaymada on moulders. Do the same for the rest of the dough. Cover and let rise until light. Bake at 350F/177C until golden brown.


Remove from pan. Brush top with butter. Dust with sugar and sprinkle with grated cheese or pour condensed milk and top with grated cheese.
Recipe Notes
Yield: 1 dozen