Elite Recipes: Chef Jessie's Christmas Menu at The Maya Kitchen Culinary Elite Series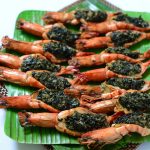 Tiger Prawns With Laing
Ingredients
250

g

dried yam leaves

100

g

pork belly,

cut into small strips

50

g

ginger

chopped

50

g

garlic

minced

50

g

onion

chopped

Cream of 3 mature coconuts

Patis

12

pc

tiger prawns,

deveined

Siling labuyo

parsley

chopped
Instructions
Cook pork belly in a pan with about 1 cup of water until fat is extracted. Set aside meat.

Sauté ginger, garlic and onion in pork fat.

Add coconut milk and cook until it boils.

Add the yam leaves and continue cooking until half of the sauce turns to oil.

Season to taste.

Cut the back of the prawns lengthwise, leaving the tail and head intact.

Grill prawn until half cooked.

Fill cavity of the prawns with laing.

Bake in a pre-heated oven for 5-10 minutes before serving.

Finish off with chopped parsley and sili.