Manila heat is no joke during the summer. And there's no better way to cool off than cranking up the AC, taking a dip in the pool, or indulging in some frozen treats like ice cream and yogurt.
But we Pinoys also have our own way of beating the heat, like our famous halo halo and mais con hielo. But there's another Asian delicacy that compares in terms of goodness and cool factor. Allow us to introduce bingsu, a deliciously decadent traditional Korean iced treat that will please even the most discriminating of dessert lovers.
Like halo halo, Bingsu uses finely shaved ice as its main component, and enjoyed with a plethora of toppings like fresh fruits, jam, cereal flakes, red bean paste, jellies, mini mochis, sweet syrups, and condensed milk.
Bingsu often uses flavored ice shavings instead of just plain water ice. Another popular practice is to create milk ice, which adds a rich and velvety texture and flavor to the dessert. Simply combine milk and condensed milk to form a sweet and creamy mixture, place into ice cube molds and then freeze. Once frozen, you can place this in a food processor or a shaved ice maker.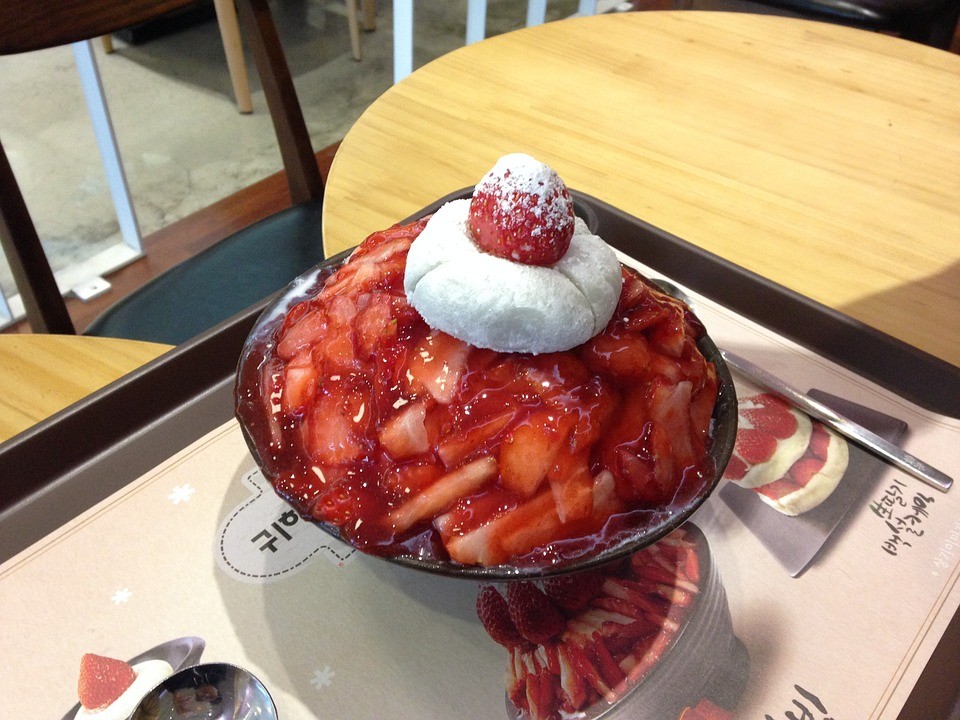 Bingsu was enjoyed by Koreans as early as the 1300s during the Joseon Dynasty, and only the wealthy were able to partake of this dessert. Refrigeration was unheard of so shaved ice was a luxury that only a few could afford. It was also referred to as patbingsu and was basic in terms of ingredients: red bean paste, tteok (Korean rice cakes), and ground nut powder. The dessert has since evolved due to Japanese and Western influences, leading to the huge variety of bingsu we now have today.
There are a growing number of Korean food establishments in the Metro that specialize or feature bingsu on their menu. Spot.ph came up with a list of establishments to get your bingsu fix, which can serve as your guide.
But if you're up to it, why not try making your own? We scoured the Internet for seriously good bingsu recipes, and you could try sourcing these ingredients from your local Korean grocery. Here are our favorites, in no particular order:
My Korean Kitchen's recipe for Injeolmi Bingsu uses the milk ice technique. The toppings consist of sweetened rice bean paste, injeolmi, mini mochi, multi grain powder, and natural almond flakes.
For matcha lovers, we recommend the Patbingsu from Serious Eats, featuring fruit cocktail and green tea ice cream for a super interesting combination!
Finally, Kimchimari's recipe for Korean Shaved Ice with Berries is a real showstopper. The great thing about this recipe is that it's very detailed and explains the ingredients and procedures thoroughly. Fresh blueberries and strawberries would be amazing here. (If you know someone going up to Baguio, ask him or her to bring some home for you. Otherwise the nearest well-stocked supermarket is your best bet.)
Let us know how your bingsu experiments go by leaving a comment below!