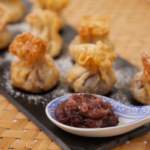 Sweet Red Bean Paste Fried Pouch Dumplings
Ingredients
1

can

Red beans in can

drained (240g)

1/3

cup

water or milk

1/4

cup

sugar

1

teaspoon

vanilla extract

1

tablespoon

butter

1

pack

Prepared or store-bought dumpling wrapper

Oil

enough for frying

Enough confectioners' sugar for dusting
Instructions
Prepare red bean paste filling by placing the drained red beans into a saucepan.

Add water and sugar then bring to a boil. Reduce heat to a simmering stage and continue cooking while stirring until the beans are soft enough to squash and mash.

After mashing the beans, add in vanilla extract and butter and keep cooking and stirring until the mixture of beans becomes sticky or pasty. Remove from heat and set aside to cool down.

Once cooled, get one dumpling wrapper and place in the middle a teaspoonful of red bean paste.

Dampen the edges of wrapper with a little amount of water and bring and scrunch up the sides around the filling. Pinch together wrapper to seal and create a pouch liked effect. Repeat procedure until all ingredients have been used up.

Deep-fry the dumplings in hot oil, until golden and crispy. Drain then dust red bean paste dumplings with confectioners' sugar before serving. Serve immediately.
Recipe Notes
Yield: 20-25 pieces
Prep Time: 20-25 minutes
Cook Time: 15-20 minutes