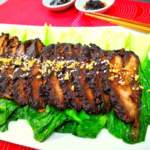 Sticky Chinese Pork in Dark Soy Sauce
Ingredients
500

grams

pork loin

1

teaspoon

salt

1/2

teaspoon

black pepper

ground

1/4

cup

brown sugar

6

cloves

garlic

minced

1/4

cup

dark soy sauce

1/2

tablespoon

ginger

minced

2

tablespoons

sesame oil

1

pack

bok choy

water

for boiling

2

tablespoons

oil
Instructions
Wash clean pork loin and pat dry with paper towel and place it in a large bowl.

Add salt, pepper, and brown sugar to the pork loin and massage it gently.

Once the pork loin becomes sticky, add garlic and soy sauce and gently massage again the pork loin. Cover the bowl with plastic wrap and let it marinate for 30 minutes.

After marinating for 30 minutes, add ginger and sesame oil and let it marinate again for an hour or so. (For better tasting, marinate pork loin overnight).

Heat oil in a large non-stick pan, over a medium heat. Sear marinated pork loin to the pan and let it seared for about 3 to 5 minutes per side.

Transfer the seared pork loin in a jelly roll pan and broil it in the oven at 400⁰F / 204⁰C for 15 to 20 mins or until the center of the pork loin is cooked.

Let the pork loin rest for 3 to 5 minutes before slicing.

While the pork loin is in the oven, prepare bok choy. Cut the bottom part of the bok choy and wash it clean, removing dirt and soil stuck in between of the stalks. Set aside.

Boil water in a medium stockpot, once boiling, add clean bok choy and let it boil for 2 to 3 minutes, then add sesame oil.

Drain water and set aside bok choy.

Assemble: Arrange bok choy in a serving plate, making a bed of bok choy. Then arrange the sliced sticky pork loin on top of the arranged bok choy and top it up with toasted garlic and toasted sesame seeds. Serve.