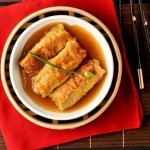 Steamed Tofu Roll
Ingredients
Filling
500

grams

ground pork

150

grams

cooked shrimp

finely chopped

1

piece

medium-sized onion

chopped

1/3

cup

wood ear mushrooms strips

1/4

cup

spring onions

finely chopped

1

teaspoon

grated ginger

1/4

cup

MAYA All-Purpose Flour

2

pieces

eggs

2

tablespoons

oyster sauce

3

tablespoons

light soysauce

1 1/2

tablespoons

brown sugar

Salt and pepper
Sauce
1

cup

chicken stock

3 1/2

tablespoons

soy sauce

1

tablespoon

rice wine

1

teaspoon

grated ginger

1

cup

MAYA Cornstarch

1

pinch

black pepper
bean curd sheets

as needed

beaten egg whites

as needed
Instructions
Prepare filling. In a bowl, combine all ingredients for the filling until well mixed. Set aside.

Prepare sauce. Mix all ingredients in a bowl, making sure to dissolve the cornstarch in the liquid.

To assemble. Place a sheet of bean curd sheet on a clean, flat surface. Spoon meat filling in the middle then fold the sheet over the filling. Fold the sides inwards and roll tightly, forming a 4-inch roll. Seal by brushing the edges with a little beaten egg white. Repeat procedure until all the filling is used up.

Arrange rolls in a shallow plate and pour prepared sauce over them. Put the plate in the steamer and cook for 10-12 minutes or until done.