Chef Claude Tayag's "From a Kapampangan Palate to an Artist's Palette: An Update on Four Pampango Dishes"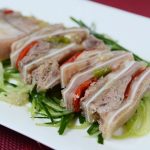 Sisig Terrine
Ingredients
8

pieces

pigs ears (drum taken out),

clean well and cut lengthwise into 3 equal parts
Brine Solution:
2

tablespoons

brown sugar

2

pieces

bay leaf

1/2

teaspoon

cracked black pepper

2

teaspoons

salt

2

cups

water

200

ml

pineapple juice
For the Mirepoix (rough chopped):
20

g

chopped carrots

20

g

chopped celery

20

g

chopped red onion

20

g

chopped leeks

4

pieces

ear drums,

sliced into 1/2" strips

100

grams

small diced cooked chicken liver

red bell pepper

cut into 4 length-wise then slice into 1/4" strips across

2

pieces

green and/or red finger chilies,

sliced thinly into rings
For plating:
cucumber,

grated into spaghetti strips

pineapple vinaigrette

wonsuy/cilantro
Vinaigrette (mix all ingredients together) :
1/2

cup

extra virgin olive oil

1/2

cup

kalamansi extract

1/2

cup

pineapple juice

1-2

pieces

green and red finger chilies,

sliced thinly

salt and pepper to taste
Instructions
Procedure:
Place the pig ears in a suitable zip-lock bag along with the marinade.

Mix well and place in the chiller for 12 hours (move it sometimes to wake up the brine).

After 12 hours place the pig ears along with the brine solution and mirepoix into a stockpot.

Completely cover in cold water and pineapple juice.

Cover stockpot and cook over low heat. Alternatively, if a pressure cooker is available, boil for 30 minutes.

When done, remove pig ears from the broth and set aside.

Continue to boil broth until reduced into half, when starting to reduce add 2 teaspoons calamansi, 1 teaspoon patis and chopped 2 pieces green chillies.

Once reduced, pour liquid through a fine strainer.

Lightly moisten the terrine mold or meat loaf pan with water then line it with plastic wrap.

Place enough of the cooked pigs ears into the terrine enough to cover all the surface area.

Sprinkle with chicken liver and red bell pepper.

Repeat steps 10 and 11 until pan is almost full, about 1/2" from the top.

Pour about 1 cup of the reduced broth into the pan.

Close the top by folding each side of the plastic wrap to the center.

Repeat steps 9-14 with the 2 remaining terrines.

Cut a piece of cardboard to fit exactly the inside of the terrine mold. Wrap it in plastic wrap.

Place this plastic-wrapped cardboard on the top of the terrine and place a heavy block (like a brick) on top to press it. Some liquid may spill out.

Refrigerate the terrine for an hour or two, or until the liquid has set into a gelatinve. Prepare vinaigrette
To serve:
Place cucumber strips into a mixing bowl and add some of the prepared vinaigrette. Portion into a plate by using a fork and dip into the bowl and move into a circular motion, just like when eating spaghetti.

Using a sharp knife warmed in water, cut the terrine into 1/2" slices. Place over the cucumber strips.
Recipe Notes