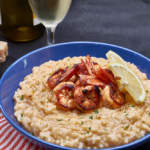 Shrimp And Lemon Risotto
Ingredients
400

g

shrimps

pealed deveined with tail intact

Juice and zest of 1 lemon

Paprika

chili powder, Salt and pepper to taste

Oil for frying
Risotto:
2

tablespoons

olive oil

¼

cup

unsalted butter

2

tablespoons

garlic

minced

½

cup

onion

finely chopped

1

cup

Arborio rice

1/3

cup

white wine

3-4

cups

shrimp or broth

as needed

Salt and pepper to taste

½

cup

grated parmesan

Zest of 2 lemons

Chopped parsley
Instructions
In a bowl, marinate shrimps with juice and zest of 1 lemon, chili powder, paprika, salt and pepper. Set aside for 5 minutes. Pan grill marinated shrimps until cooked. Sprinkle with some chili flakes. Set aside.

Prepare risotto: In a large, heavy-bottomed saucepan, heat the oil and butter over medium heat. When the butter has melted, add chopped garlic, onion and thyme. Sauté for 2-3 minutes or until slightly translucent. Add the rice to the pot and stir briskly with a wooden spoon so that the grains are coated with the oil and melted butter. Sauté for another minute, until there is a slightly nutty aroma. Add the wine and cook while stirring, until the liquid is fully absorbed. Put chicken or shrimp stock to the rice and stir until the liquid is fully absorbed. When the rice appears almost dry, add more stock and repeat the process until the rice has a creamy consistency. Season with salt and pepper. Stir in parmesan cheese and lemon zest.

To assemble: Serve some risotto top with pan-grilled shrimps, sprinkle with fresh parsley. Serve hot.