Elite Recipes: The Best of Lolo Dad's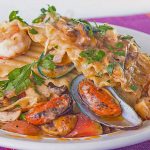 Shellfish Open Lasagne
Ingredients
8

pcs.

lasagna noodles

200

g.

prawn

40

g.

garlic

(sliced)

300

ml.

olive oil

40

g.

breadcrumbs

100

g.

scallop

150

g.

mussel

whitewine for deglazing

100

g.

sliced mixed mushrooms

40

ml.

prawnhead oil

120

g.

tomato (fresh)

(peeled, seeded and diced)

freshly crushed black peppercorns and salt

2

sprigs

parsley (fresh)

(coarsely chopped)
Instructions
Cook lasagna noodles until al dente. Drain and set aside.

Sauté prawns in garlic and olive oil.

On a heated stockpot, cook mussels in garlic and olive oil, then deglaze it with white wine, cover it and wait until all the shells are open.

Drain mussels and discard shells without meat. Strain mussel juice and thicken with breadcrumbs.

In a large skillet, sear both sides of the scallops. In another pan, sauté mushrooms and add shellfish and fresh tomatoes, season with salt and pepper.

Bring to medium heat then fold in the mussel stock.

Arrange pasta and shellfish alternately. Apply some prawn head oil and parsley in between.