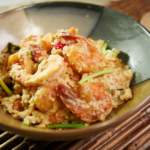 Salted Egg Shrimps
Ingredients
20

pieces

large white shrimp

deveined

salt and pepper to taste

1

tablespoon

oil

10

pieces

curry leaves/basil leaves

3/4

cup

MAYA Cornstarch

1

tablespoon

paprika

1/2

tablespoon

garlic powder

oil for frying

2

pieces

medium sized onion

chopped

3-4

pieces

salted eggs

¼-1/2

cup

all-purpose cream

1/4

cup

milk

1/4

cup

butter

1

tablespoon

oil

5

pieces

red chilies

sliced

2- 3

tablespoons

sugar or as needed
Instructions
Wash and devein shrimp. Season with salt and pepper. Set aside.

Heat oil in a medium-sized pot over medium heat.

Fry leaves and set aside.

In a bowl, mix cornstarch, paprika and garlic powder. Mix well.

Dredge seasoned shrimp with cornstarch mixture. Set aside.

Deep fry shrimp, until color change and set it aside.

Fry again for another 30 seconds or until golden brown.

Using a blender or food processor, puree one-piece onion, salted eggs, cream, and milk. Set aside.

In another saucepan, heat up oil and butter, pan sauté chillies and remaining onion.

Add pureed salted egg mixture, and let it simmer for 30sec to 1 minute. Adjust taste by adding sugar and pepper to your salted egg sauce.

Add fried shrimp and fried leaves. Toss shrimp until it is well covered with the sauce.
Recipe Notes
Yield: approx. 5 - 6 servings