Elite Recipes: How Chef Sau del Rosario Does Noche Buena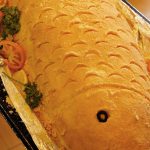 Salt Crusted Salmon
Ingredients
4

egg whites

3

kilograms

sea salt

1

piece (2 kilograms)

salmon,

cleaned

1

lemon

sliced

1

whole

onion

sliced

1

bulb

garlic

minced

1/2

stalk

celery

sliced

1

stalk

leek,

sliced

3

sprigs

Dill

4

tablespoons

olive oil

4

pieces

boiled eggs

250

grams

haricot verts,

blanched

250

grams

Kalamata olives

lemon slices for garnishing
Instructions
Preheat the oven to 400°F.

Line a baking sheet with parchment paper or foil.

In a medium bowl, combine the egg whites and sea salt.

Knead with your hands until a thick paste is formed.

Fill the cavity of the fish with a mixture of lemon, onion, garlic, celery, leeks, and dill. Coat fish with olive oil. Put the fish on the prepared baking sheet.

Mould the salt paste evenly over the entire fish. Make sure there are no holes in the salt paste.

Bake the fish until the crust is golden brown and very firm, about 45 minutes.

Slide the parchment and fish onto serving platter or cutting board. Allow to rest for 5 minutes.

Crack the crust with the back of a large knife and discard the crust. Garnish with haricot verts, Kalamata olives, lemon slices and egg.