Elite Recipes: The Best of Lolo Dad's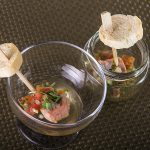 Salmon Sardine with Fresh Garlic Crouton
Ingredients
8

g. / pc.

salmon fillet

salt & pepper

to taste

20

g.

garlic

(sliced)

pinch of pimenton

olive oil

enough to cover the surface

bouquet garni of

parsley, thyme, lemon peel, dill, peppercorns

4

pcs

french baguette (mini)

thinly sliced

fresh garlic for rubbing, salt and pepper for seasoning

combination of tomatoes, onions and chives

(brunoise cut)

basil (fresh)

for garnish
Instructions
Season the fish with salt and pepper then set it aside.

Sauté garlic and pimenton with a little oil to sweat.

Add the remaining oil and increase heat to medium.

Put in the bouquet garni and let it steep for at least 20 minutes, then pour over the fish just to cover the surface and cover it with foil right away.

Bake croutons to golden brown.

Rub with fresh garlic, season with salt and pepper.

Garnish with vegetable brunoise and fresh basil.