If there's list of quarantine trendy food, Baked Sushi would probably top the list. Here, The Maya Kitchen shares their recipe for this food trend. The baked sushi is basically a baked casserole of deconstructed sushi made of Japanese rice, some fish (in this case, salmon and kanibo), and topped with a creamy mixture. After baking, the sushi bake is served on nori sheets.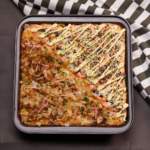 Salmon and Kanibo Baked Sushi
Ingredients
Rice Seasoning:
¼

cup

crushed or grinded nori

1-2

teaspoons

togarashi

1

tablespoon

black or white sesame seeds

roasted

1

sachet bonito flakes
Rice:
1/3

cup

vinegar

2-3

tablespoons

sugar

½

teaspoon

salt

½

teaspoon

hondashi granules

3-4

cups

cooked Japanese rice

prepared rice seasoning

as needed
Toppings:
1

cup

cream cheese

1

cup

Japanese mayonnaise

1

teaspoon

sugar

2-3

tablespoons

all-purpose cream

Salt and pepper to taste

300

grams

kanibo

fake crabmeat, shredded or chopped

1

tablespoon

tobiko

orange fish roe

200

grams

fresh salmon

thinly sliced

black sesame seeds

as needed

bonito flakes

as needed

Japanese mayonnaise

for drizzling

Aonori flakes
Nori seaweeds or roasted seasoned seaweeds

as needed
Instructions
To prepare rice seasoning, just combine all ingredients and process in a spice blender until roughly fine and well blended. Set aside.

To prepare sushi rice, place the cooked rice in a wooden or glass bowl. Set aside.

Combine vinegar, sugar, salt and hondashi in a saucepan and bring to a boil and turn off heat.

Pour hot vinegar mixture into the rice and sprinkle some prepared rice seasoning around 1-2 tablespoons. Mix together in slicing motions to separate the grains without damaging them.

Fan the rice with a hand fan or electric fan to remove excess moisture. Keep rice covered with a damp cloth until ready to use. Set aside.

In a bowl, combine cream cheese, mayonnaise, sugar and cream and using a hand mixer beat until smooth and creamy. Season with salt and pepper according to taste.

Equally divide cream cheese mixture into two bowls. Place the 250 grams kanibo and tobiko on one bowl of cream cheese mixture and mix well. Set aside the remaining kanibo for topping.

To assemble, arrange and lightly press the seasoned rice on a non-stick baking dish and sprinkle top with some rice seasoning. Spread the cream cheese mixture on top until rice is fully covered. Scatter the grated quick melting cheese on top.

On one side of the pan arrange slices of salmon on top until one equal side of the baking dish is well covered with salmon slices. Drizzle top with mayonnaise and sprinkle with black sesame seeds and aonori. On the other side of the pan, arrange on top the remaining kanibo and cover with bonito flakes to will create a two- flavored baked sushi.

Bake in a preheated oven 350°F/177°C for 15-20 minutes or until the bonito flakes become golden brown and light crisp

Best served with cut nori seaweeds or any roasted seasoned nori seaweeds.
Recipe Notes
Yield: 6-8 servings
Prep Time:25-30 minutes
Baking time: 15-20 minutes