The end of the year is always momentous for Filipinos. But aside from the New Year celebrations, we also take time to remember the life and works of our national hero, Dr. Jose Rizal, every 30th of December.
On this day, flags are at half-mast and a commemorative event is held at Rizal Park, where everyone is always welcome to attend. In 1948, to emphasize the solemnity of this occasion, President Elpidio Quirino ruled the prohibition of sabong (cockfighting), Jai Alai, and horse racing on this day.
The Maya Kitchen believes that we can take this holiday even further by bringing it closer to home. While it's easy to get caught up with the pomp of the season that we unknowingly pay little attention to this important holiday, true Filipinos need to be aware and understand Rizal's deeds. After all, he made the supreme sacrifice for our country, and it is important for Filipino families to celebrate his legacy and impart it to their children in their own special way.
Perhaps a visit to the Rizal Park with family is in order? Maybe regale younger family members with tales of Rizal's talents and valor during a special meal made up of all our Filipino favorites? Because nothing brings family closer than a delicious spread, and the best stories are always told on a full stomach.
That's why we'd like to share our special recipe for Adobo; a national dish to celebrate the life of a national hero.
Adobo, for those who are unfamiliar, is chicken, pork, or seafood thoroughly marinated in garlic, soy sauce, and vinegar, then cooked in oil. When the pieces achieve a brown color, they are then boiled gently in the marinade. This serves as the basic recipe, but preparation varies across provinces and individual households.
Filipinos are fond of adding bay leaves and peppercorns for that extra special kick. In parts of Luzon and Mindanao, they often add gata (coconut milk), which gives it a creamy texture. Caviteños add pork liver while the Laguna adobo has a yellowish color thanks to a spot of Luyang Dilaw (turmeric).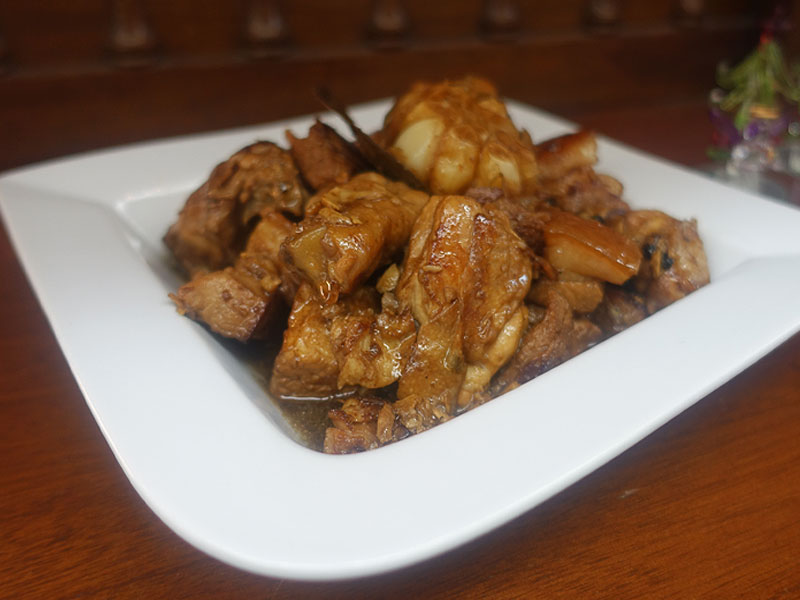 The wonderful thing about this delicious dish is that it keeps a little longer than usual due to the vinegar, which acts as a natural preservative.
Served with white rice, adobo is a classic all-time Filipino family favorite.
If you aren't already celebrating Rizal Day, then it's not too late to start a wonderful family tradition that promotes togetherness and properly commemorates a significant part of Philippine history. Dr. Jose Rizal symbolizes our commitment to our homeland and our responsibility to make it a better place for future generations.
And, without further ado, here is The Maya Kitchen's special Adobo recipe.