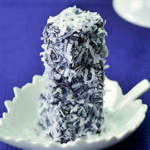 Purple Yum Lamingtons
Ingredients
1

pack

MAYA Oven Toaster Banana Cake Mix 230g

3

tablespoons

oil

4

tablespoons

water

1/4

teaspoon

ube flavoring

1/4

teaspoon

violet paste food color

1

piece

egg

1/2

cup

purple yum paste or pureed purple yam
Ube Yum Glaze
1/2

cup

heavy cream

1/2

cup

condensed milk

1/2

cup

purple yum paste

1/4 cup ube powder + 1/2 cup water

1/4

teaspoon

violet paste food color

dessicated coconut

for coating
Instructions
Preheat oven to 375 ºC or 191°C. Grease and line the bottom of an 8x3x3-inch loaf pan. Set aside.

Combine the banana cake mix, oil, water, ube flavoring, ube paste food color, egg and paste or pureed purple yum. Mix until well blended and smooth. Pour mixture into prepared pan and bake for 30-35 minutes or until done. Set aside.

Prepare glaze: Mix first 4 ingredients until smooth. Set aside.

To assemble: Slice cake into 1-inch cube. Dip in ube yum glaze mixture. Transfer to a wire rack to allow excess glaze from the lamingtons to drain off, then coat with desiccated coconut. Plate as desired.