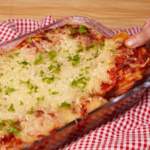 Pull-Apart Cheesy Garlic Bread Pizza Buns
Ingredients
For the Dough:
2

cups

MAYA All-Purpose Flour

3/4

cup

milk

1/2

teaspoon

instant dry yeast

3

tablespoons

olive oil

½

teaspoon

salt

1

tablespoon

garlic powder
For Pizza Filling and Toppings:
2

cups

prepared pizza Sauce

Pepperoni slices

as needed

Mozzarella Cheese

grated (as needed)

½

cup

softened butter

¼

cup

garlic

minced
Instructions
Prepare dough by combining the flour, milk, yeast and oil, in a mixer bowl. Using a dough hook attachment process for 2 minutes at low speed. Then add salt and continue kneading at medium speed for 12 to 14 minutes or until the dough is fully developed, smooth and elastic. Use the window pane method to check its elasticity.

Transfer the dough in a greased bowl and cover with cling wrap or damp cheese cloth. Let the dough rest and ferment for 45 minutes – 1 hour at room temperature or until it doubles in size.

While fermenting the dough, preheat oven to 375⁰F/190⁰C. Lightly grease a rectangular or square pan or a deep dish. Set aside.

Punch down the dough to halt fermentation and remove air bubbles. Transfer dough in a flat surface, lightly brush with oil or butter. Divide the dough into 12 portions weighing approximately 40 grams each, then roll the dough into balls. Cover the dough balls with cheese cloth and let it rest for 10 to 15 minutes.

After resting the dough balls, flatten the sides of each dough balls leaving the center a little bit thicker than the sides. Scoop 1 to 1 ½ teaspoons of pizza sauce at the center of the dough, then put 1 piece of pepperoni then top with grated mozzarella in the middle and pull sides to meet in the middle. Pinch the seams together to seal. Form the dough into a ball. Repeat procedure until all the dough balls are consumed.

Place the pizza stuffed dough balls to the prepared pan and let it proof for 30 to 45 minutes or until the dough doubles its size.

Mix softened butter and garlic, brush the proofed dough with butter-garlic mixture and bake for 10 to 15 minutes.

Remove the stuffed buns from the oven, spread remaining pizza sauce evenly on top of baked buns, then sprinkle with the remaining grated mozzarella cheese and arrange slices of pepperoni on top. Add another layer of grated cheese. Bake again for 10 to 15 minutes or until the cheese melts.
Recipe Notes
Yield: 11 to 12 pull-apart pizza buns
Prep time: 1 hour and 45 minutes
Baking time: 25 to 35 minutes