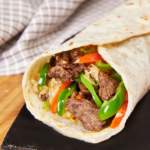 Philly Cheese Steak Tortilla
Ingredients
For Tortilla:
2

cups

MAYA All-Purpose Flour

1/2

teaspoon

salt

1

teaspoon

baking powder

¾

cup

water

3

tablespoons

shortening
For Philly Cheese Steak:
2

pieces

medium-sized onions

thinly slice

¼

cup

butter

500

grams

beef

sukiyaki cut

2

tablespoons

Worcestershire sauce

3

tablespoons

prepared steak sauce

salt and pepper

oil

red and green bell peppers

as needed

sliced mozzarella cheese

as needed

sliced cheddar cheese

as needed
Instructions
Tortilla: Mix flour, salt, baking powder, water and shortening. Stir until it is manageable to knead. Knead for 10 to 12 minutes, adding flour or water if needed to achieve a smooth dough. Rest for at least an hour.

Divide dough into 8 to 10 portions. On a lightly floured surface, using rolling pin, flatten out the portioned dough into a 10-inch circle.

In a greased crepe pan or cast-iron pan, cook tortillas over medium heat until lightly brown. Set aside.

Philly Cheese Steak: In a heavy bottom pan, caramelize onions, add butter and continue stirring until butter melts. Set aside.

Marinate beef for an hour with Worcestershire sauce, steak sauce, salt and pepper.

In a medium-sized pan, heat oil over high heat, sauté bell peppers, then add marinated beef then stir fry until beef is tender then add the caramelized onion. Turn-off the heat.

Assemble: Place tortilla wrap in a plate then arrange 2 pieces of mozzarella cheese and cheddar cheese, then fill it up with the steak. Roll tortilla then serve.
Recipe Notes
Yield: 8 servings