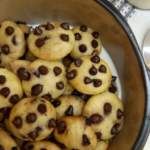 No Oven Chocolate Chip Hotcake Cereal
Ingredients
1

pack MAYA Original "Fluffy and Tasty" Hotcake Mix 200g

1

medium-sized egg

2

tablespoons

oil

2

tablespoons

water

½

cup

mini-dark chocolate chips

Fresh milk

optional
Instructions
In a bowl, whisk together egg, oil and water until well combined.

Add into the liquid mixture the hotcake mix and half of chocolate chips. Mix together until it forms a dough.

Wrap the dough in a plastic wrap and refrigerate for 10-15 minutes for easy handling of cookie dough.

Preheat a big heavy bottom pot or pan over very low heat. Place a wire rack inside and put the lid on and preheat for 10-15 minutes to contain the heat inside the pan.

Get the chilled dough and measure around 5-7 grams each using a digital weighing scale for a more uniform cookie size then roll into a ball, top each ball of cookie dough with the remaining chocolate chips.

Arrange cookie dough on a lightly greased small tray one inch apart giving enough space for rising.

Place the tray on the preheated pan and put back the lid on. Cook for 5-7 minutes or until golden brown. Do the same procedure until all the cookie dough is consumed. Cool before serving.

To serve, put some cookies on a bowl and pour your favorite fresh milk to make a good bowl of chocolate cookie chip cereal.
Recipe Notes
Yield: 5-6 dozen of mini chocolate chips
2-3 servings of chocolate chips cereals
Prep Time: 20-25 minutes
Cooking Time: 35-45 minutes
Recipe Notes:
• If you don't have MAYA Original "Fluffy and Tasty" Hotcake Mix 200g you may want to use the other MAYA hotcake variants like MAYA Chocolate Hotcake Mix 200g or MAYA Whole Wheat "Think Heart" Pancake Mix 200g, just follow the same procedure.
• If using MAYA Complete "Quick n' Easy" Hotcake Mix 200g, change the amount of water in the recipe into ¼ cup, remove egg and oil then follow the same procedure.