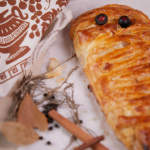 Mummy Calzone
Ingredients
3

sheets puff pastry sheets

store bought

1

pack pizza sauce

1

pack sliced mozzarella cheese

1

pack pepperoni

1

pack square ham

1

pack sliced cheddar cheese

1

piece

onion

thinly sliced

1

piece

green bell pepper

sliced

1

piece

red bell pepper

sliced
Instructions
Preheat oven to 350⁰F/ 177⁰C. Grease and line a baking pan.

In a flat surface, place a baking sheet and lay down 1 sheet of puff pastry. Cut both sides of the puff pastry into strips to act as mummy bandage.

Spread 2 to 3 tablespoons of pizza sauce horizontally at center of the puff pastry.

Lay 3 slices of mozzarella cheese on top of the pizza sauce. Then lay 10 to 12 pieces pepperoni on top of the cheese. Cut square ham in half and lay on top of the pepperoni. Top with vegetable slices and another set of cheese, then cover it with a half pastry puff, and then arrange the sides strips mimicking a mummy wrap.

Bake for 15 minutes, then brush with egg wash and bake again for another 10 minutes or until it turns golden brown.

Place 2 sliced black olives for the eyes and/or a small piece of red bell pepper at the middle of the black olives to form pupils of the eyes.
Recipe Notes
Yield: 4 servings