From the article "Hot Cold Summer"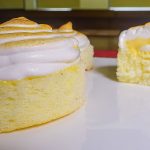 Mini Baked Alaska
Ingredients
Cake base: 8-inch round chiffon cake
1 cup

+ 2 tablespoons

MAYA Cake Flour

sifted

1 1/2

teaspoons

baking powder

1/2

teaspoon

salt

6

tablespoons

sugar

1/2

cup

vegetable oil

4

egg yolks

6

tablespoons

water

1/4

teaspoon

cream of tartar

6

tablespoons

sugar
Filling:
1

pint

ice cream

any favor desired
Icing: Basic Boiled Icing
2

egg whites

1/4

cup

light corn syrup

1/2

cup

sugar

2

tablespoons

water

1

teaspoon

vanilla
Instructions
Prepare the cake base:
Preheat oven to 375°F/191ᵒC.

Sift flour, baking powder, salt and sugar together in a bowl.

Make a well at the center and add oil, egg yolks and water, mix until smooth. Set aside.

Beat egg whites with cream of tartar until soft peaks form. Add sugar gradually and continue beating until stiff but not dry.

Fold in egg yolk mixture into the egg white mixture until thoroughly blended.

Pour into an 8x3 inch round pan. Bake for 40-45 minutes or until done. Invert on a wire rack to cool.

Cut into 3-inch rounds using cookie cutter. Set aside.
Prepare the icing.
Let egg whites stand at room temperature for 30 minutes.

In medium bowl, beat egg whites with electric mixer on high speed just until stiff peaks form.

In a saucepan, combine sugar, corn syrup and water until well mixed. Cover and heat to rolling boil over medium heat. Uncover and boil 4 to 8 minutes, without stirring, to 242°F on candy thermometer.

Pour hot syrup very slowly in thin stream into egg whites, beating constantly on medium speed.

Add vanilla. Beat on high speed about 10 minutes or until stiff peaks form. Transfer in a piping bag.
Assemble the cake:
Place an ice cream scoop at the center of each cake bases. Leave a ½ inch margin around the cake base for the icing.

Pipe a ring of meringue around the ice cream. Start at the bottom edge of the cake. Continue piping until the ice cream is completely covered. Make sure the succeeding rings rests on top of the previous one.

Return them to the freezer until ready to serve. Using a torch, brown the meringue before serving.