Elite Recipes: The Best of Lolo Dad's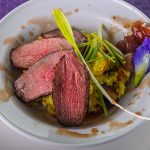 Mediterranean Duck Rice
Ingredients
300

g.

french muscovy, duck breast

pepper and salt

to taste

250

ml.

red wine

herb de provence

small bunch

250

g.

seedless grapes

100

ml.

honey

50

ml.

syrup (maple)

saffron thread (pinch)

soak in hot water

400

g.

long grain rice

150

g.

nuts (pine)

100

g.

dried fruits, mixed

(preferably raisins, apricots and figs)

180

g.

mushrooms, mixed

(sautéed)

120

g.

duck's liver

(seared then chilled, diced )

2

pcs.

duck's egg

(beaten)

5

chives, cut into 1 inch
Instructions
Season duck breast with salt and pepper.

On a heated cast iron pan, sear all sides of the breast until brown, then finish in the oven for about 8 minutes at 300" F.

Remove from the oven and let it rest. (Try to not overcook the meat.)

On the same pan, deglaze with red wine, add herb de provence and reduce.

Add grapes, honey and maple syrup. Let it stay at low heat until it reaches the right consistency.

Soak saffron threads in 100 ml. of hot water.

Wash rice twice. Using a rice cooker, combine rice, and saffron soaked in hot water and add the same amount of water as the rice (1 x 1 ratio). Season with salt and pepper.

Turn on the rice cooker and wait until rice cooks (rice cooker will automatically switch to warm once the rice is cooked).

While the rice is cooking, roast pine nuts on a medium heated pan and add dried fruits.

On another heated pan, sauté mushrooms and fold into the rice, then add the pine nuts, dried fruits and duck liver. Adjust seasoning with salt and pepper.

Make a duck egg omelet using a non-stick pan and cut it thinly. Use as garnish with the chives.