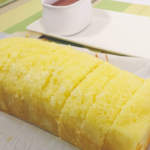 Maya Oven Toaster Mix Buttercake
Ingredients
1

pack

Maya OTM Buttercake Mix 200g

1

piece

egg

medium

1/2

cup

water

3

tablespoons

oil
Instructions
Brush the bottom of an 8 x 3-inch loaf pan with cooking oil or shortening.

Combine egg, eater, and oil in a bowl. Add 1 pack of Maya Oven Toaster Buttercake Mix, and beat with a wooden spoon until smooth, abouth 80-90 strokes.

Pour into prepared pan, and spread evenly.

Cover loosely with aluminum foil and lightly seal at the edges

Bake in the oven toaster for 10 minutes. Turn the pan sideways, and bake for 10 more minutes.

Check if the cake is done by inserting a toothpick at the center. If it does not come out clean, continue baking for about 3-5 minutes or until a toothpick inserted at the center comes out clean and dry. Cool.