Maya Decadence Premium Mixes are Maya's higher quality line of cake and brownie mixes comparable to more expensive, imported brands. Use these to make extraordinary cakes and brownies for grand celebrations or to just showcase your simply delicious baking skills. These products are in contrast to Maya Oven Toaster Mixes which emphasize quick and easy baking.
Maya Decadence variants can be used to make basic cakes using a number of recipes. These recipes are a bit more complicated and sophisticated than the usual recipes found on themayakitchen.com as they are meant to be for those special occasions that require a little something extra.
This line of products is more attractive to experienced bakers and those who know exactly what they can bake using Yellow Cake or Devil's Food Cake mixes.
Do you know the difference between Yellow Cake, Devil's Food Cake and Fudge Brownie Mix?
Yellow Cake
Yellow cake is a combination of a thorough creaming of room temperature butter and sugar to get its texture, the addition of whole eggs (as compared to egg whites in white cakes), and the addition of all-purpose flour, leavening, salt, and water.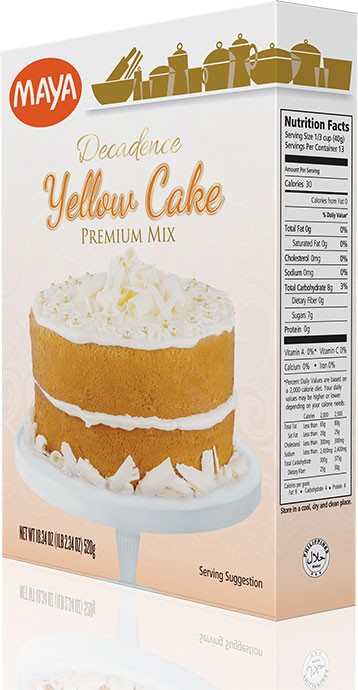 Maya Decadence Yellow Cake Mix has a moist and dense texture and produces a thick batter. Its distinct taste makes it ideal for most cake recipes. It is the perfect base for any kind of filling or frosting.
Fudge Brownie
Fudge brownies differ from regular brownies due to the amount of cocoa they have. They are more dense and have a slightly bitter taste similar to dark chocolate.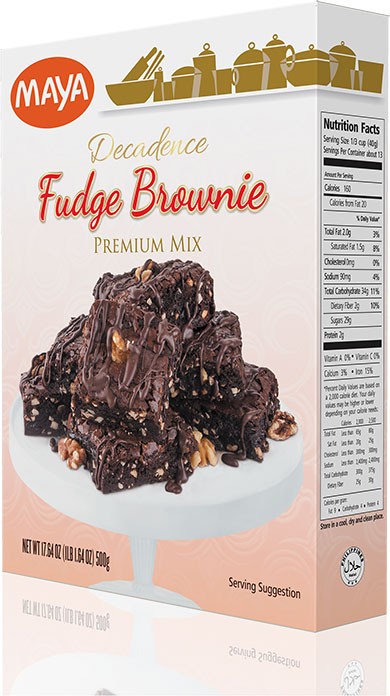 Maya Decadence Fudge Brownie Premium Mix yields brownies that are delicate and moist, with a fudgy center that puts them in a simply delicious league of their own.
Devil's Food Cake
Devil's Food Cake is similar to regular chocolate cakes except that  it uses unsweetened chocolate instead of cocoa powder.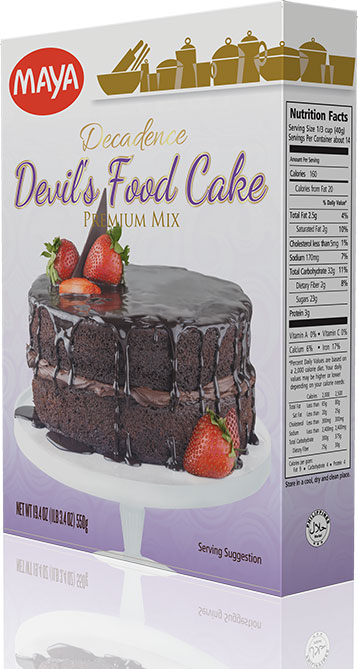 Maya Decadence Devil's Food Cake Premium Cake Mix gives you cakes that are richer, darker, fluffier, and as simply delicious as you can imagine.
So, are you ready to take your baking to new heights?
When your celebration calls for something really special, use Maya Decadence Fudge Brownie, Yellow Cake and Devil's Food Cake Premium Mixes.