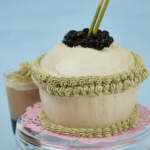 Matcha Milk Tea Cake
Ingredients
Cake:
1

package MAYA Decadence Yellow Cake Mix 520g

¼

cup

green tea "matcha" powder

1/3

cup

vegetable oil

1

cup

fresh milk

3

pieces

eggs

separate

green food color

(optional)
Green Tea Syrup:
½

cup

sugar

½

cup

water

2

tablespoons

green tea "matcha" powder

1

tablespoon

butter
Frosting:
¾

cup

green tea "matcha" powder

2

cups

non-dairy whipping cream

chilled
1

cup

black tapioca pearls

cooked
Instructions
Preheat oven to 350°F/177°C. Grease and line 3.75 x 15.23 x 8-inch giant cupcake pan. Set aside.

In a clean dry bowl, mix together the yellow cake mix and green tea powder until well blended.

Add the wet ingredients, oil, milk and egg yolks into the dry mixture (cake mix and green tea powder). Beat mixture until well blended.

Pour cake mixture into the prepared giant cupcake pan.

Bake in a preheated oven for 50 minutes to an hour or until cake is done. Remove from the oven and cool.

Prepare syrup, just combine all the ingredients together and cook in a medium heat until thick. Cool and set aside for later use.

To prepare the frosting: In a mixer bowl, mix together the green tea powder and the whipping cream just until well combined. Using a wire whisk, whip the mixture until doubles in volume. Cover and set aside in the refrigerator until ready to use.

To assemble the cake, get the cooled cake (bottom section) and hollow out lightly the center of cake then brush the inside portion of the cake with prepared syrup and put ½ the amount of cooked black tapioca pearls on the hollow part center of the cake. Spread some frosting to cover the pearls and to level the cake. Place on top the remaining portion of cake and start frosting all over and pipe frosting or design as you desired. Create a small hollow portion on the tip of the cake, brush with syrup then put over the remaining black tapioca pearls. Insert downwards onto the tip of the cake, your favorite green tea biscuits stick to recreate a straw on the milk tea.
Recipe Notes
Yield: 8-10 servings
Prep Time: 30-40 minutes
Baking Time: 1 hour