Dish from It's Fiesta Time with Maya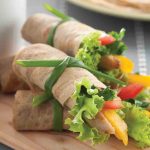 Lechon Manok Pritson Style
Ingredients
1

whole chicken,

approximately 1 kilo
Brine Solution:
1:1 (1 tablespoon salt + 1 tablespoon water)

for every kilo of meat

rosemary leaves
Crepe:
3

pieces

eggs

slightly beaten

1

pack

MAYA "ThinkHeart" Whole Wheat Pancake Mix 200g

11/2

cups

milk

3

tablespoons

olive oil

melted butter for greasing

ripe mangoes,

sliced into strips

ripe tomatoes,

coarsely chopped

coriander leaves

lettuce
Honey Mustard Sauce:
1

cup

mayonnaise

2

tablespoons

yellow mustard

2-3

tablespoons

honey

salt and pepper to taste
Instructions
Marinate chicken in brine solution, following ratio of brine per weight, drain.

Preheat oven to 400oF / 205oC.

Sprinkle Rosemary on chicken then roast in hot oven until golden brown. Cool and flake.

Prepare crepe by combining all ingredients together in a bowl (milk may be adjusted to thin the batter).

Pour about 1/4 cup of batter mixture into the griddle pan – allow batter to spread into crepe thickness.

Repeat procedures with the remaining batter.

Put enough shredded chicken into crepe.

Add a slice of ripe mangoes, tomatoes and coriander leaves.

Roll – then slice into serving pieces. Do the same with the remaining crepes & filling.

Serve with honey mustard sauce simply prepared by combining all the ingredients.