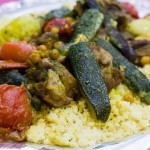 Lamb Couscous with Seven Vegetables
Ingredients
Couscous
kilogram

Couscous

(Approximate)

1/2

cup

butter

melted

salt and white pepper

to taste

2 1/2

cups

water
Meat
1/2

cup

olive oil

1

cup

onions

chopped

1/4

cup

garlic

chopped

1 1/2

tablespoons

turmeric

2

pieces

Cinnamon sticks

1

teaspoon

Cinnamon Powder

1

teaspoon

Saffron

1/2

teaspoons

Cumin powder

1

kilograms

Lamb

cut in cubes with bones

1/2

cup

Garbanzos

outer skin removed

2

cups

Turned marrow or zucchini

1

cup

baby onions

1

cup

turned carrots

2

cups

eggplant

sliced

1

cup

red capsicum

sliced

2

cups

cabbage

cut as shown

4

pieces

tomatoes

medium size

7

cups

Lamb stock or water

Salt and pepper

to taste
Instructions
Place the couscous on a tray and moisten with some water. Do this 2 –3 times as it expands while absorbing water.

Add the melted butter and mix them well by rubbing together between the palms of your hand until the couscous has absorbed the water and is no longer lumpy. Season lightly with salt and white pepper.

Transfer the couscous into a colander making a well in the middle. Place in a pot with same diameter filled with about 2 inches of water. Note that the water should not touch the couscous. Steam covered until tender but not overcooked. Cook for about 45 minutes.

While it is steaming, prepare the meat and vegetable soup by heating the olive oil and adding the onions, garlic and turmeric. Cook until it has a light flavor making sure it does not have the raw onion taste.

Add the cinnamon sticks, cinnamon powder and saffron and cook for about 3 minutes.Add the meat and brown lightly, followed by adding the stock.

Season very lightly and simmer covered for about 30 minutes or if the meat is 80 percent tender.

Then add the vegetables, taking care that they do not overcook or become mashed / soggy. Cook for another 15 minutes.

Season to desired taste.

Arrange the couscous on a round plate and place the meat and the vegetable decoratively.

Add some of the soup over it, making sure that they have extra stock so that they do not get dry.

You should serve it with extra bowl of soup, meat and vegetables on the side.

If available, add a little Harissa or chili paste for the spiciness.
Recipe Notes