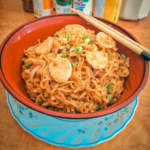 Kuey Teow Style Stir-Fried Noodles
Ingredients
Kuey Teow Style Stir-Fried Noodles
3

packs instant pancit canton

3

tablespoons

oil

5

cloves

garlic

minced

2

pieces

medium-size red onions

chopped

1

stalk onion leeks

chopped

5

pieces

squid balls

sliced

1

can corned chicken 150 grams
Kuey Teow Sauce
3

pieces

eggs

spring onions

chopped (enough for toppings)

Kuey Teow Sauce

3

sachets pancit canton seasonings

3

tablespoons

soy sauce

1

tablespoon

oyster sauce

2-3

tablespoons

sugar

2

tablespoons

sesame oil

1

teaspoon

ground pepper
Instructions
Kuey Teow Style Stir-Fried Noodles
Boil instant pancit canton noodles until slightly soft but not overcooked. Drain water and set aside to dry.

Heat oil in a pan and toast garlic until golden brown. Set aside half of the toasted garlic for toppings. Then add onions and onion leeks and continue sautéing until aromatic.

Add in the squid balls and corned chicken and continue cooking for 3-5 minutes, then add in the cooked pancit canton noodles and give a quick stir fry until all noodles are well mixed in the squid balls and corned chicken.

Add kuey teow sauce and continue stir frying, until the noodles are completely covered with sauce. Without turning-off of the heat, set aside the stir fried noodles on one side of the pan clearing the other side for cooking the eggs.

Crack the eggs in a separate bowl then pour into the cleared side of the pan and gently beating the eggs while cooking. Once the eggs are cooked, mix into the stir-fried noodles and give a quick stir frying. Turn-off the heat.

Transfer the stir-fried noodles onto serving plate, then top with toasted garlic and chopped spring onions.

***Note: For best stir-fried noodles experience, you can add bean sprouts and shrimps into the ingredients next time.
Kuey Teow Sauce
Mix all ingredients until well mixed. Set aside for the stir fried noodles.
Recipe Notes
Yield: 2 to 3 servings
Prep time: 15 to 20 minutes
Cooking time: 10 to 15 minutes