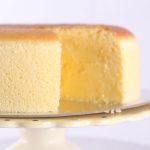 Japanese Cheesecake
Ingredients
60

grams

cake flour

20

grams

cornstarch

250

grams 1 bar

Philadelphia Cream Cheese

60

grams 1/4 cup

butter

100

ml

fresh milk

100

grams 1/2 cup

blended sugar 1

6

pieces

egg yolks

1/4

teaspoon

iodized salt

1

tablespoon 1/2 piece

lemon juice

2

teaspoons

lemon zest

6

pieces

egg whites

1/4

teaspoon

cream of tartar

100

grams 1/2 cup

blended sugar 2
Instructions
Mise en Place:
Preheat oven to 325 degrees fahrenheit.
Grease, line & flour an 8"x3" cake pan.

Sift together cake flour & cornstarch.

In a bowl, soften cream cheese over hot water.

Warm milk and butter in the microwave for 40 seconds.
Procedure:
Still over hot water, whisk the softened cream cheese until smooth.

Whisk in the egg yolks.

Mix in sugar 1.

Slowly add the milk & butter mixture and whisk until smooth.

Add the salt, lemon juice & zest and mix until well incorporated.

Remove from the water bath and sift the cake flour & cornstarch into the mixture and fold. Set aside.

In a mixing bowl with a wire whisk attachment, beat egg whites with cream of tartar at high-medium speed (6 with KitchenAid) until frothy.

Add sugar slowly and increase speed to medium-high (8 with KitchenAid) until soft peak forms.

Fold in 1/3 of the meringue (egg white mixture) into the cream cheese mixture to lighten and gently fold in the rest of the meringue a third at a time until blended and there are no more white streaks. Do not over mix.

Pour into prepared pan.

Bake at the bottom rack at 325 degrees Fahrenheit for 40 minute.

Lower the temp to 300 and continue baking for another 40 minutes.

Turn off the oven leaving the cake inside for 40 minutes.

Cool for 20 minutes before removing from the pan.
Recipe Notes
* Blended white sugar is granulated white sugar. I pulse it in the blender to make it finer. This is best used to make chiffon cakes and meringues.