Kanto Freestyle Breakfast at The Maya Kitchen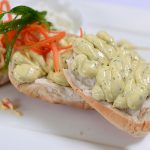 Hot Pandesal with Assorted Spread
Ingredients
Cream Cheese Pimiento Spread
500

grams

cream cheese

4

pieces

red bell pepper

100

grams

butter paprika,

a pinch

salt and pepper to taste
Pesto Butter Spread
500

grams

unsalted butter

300

grams

basil leaves

50

grams

Parmesan cheese

10-15

grams

garlic

150-200

grams

corn oil

2-5

grams

cashew nuts,
Instructions
Cream Cheese Pimiento Spread Procedure
Grill the bell pepper. Peel and deseed. Chop coarsely.

Soften the cream cheese.

Blend cream cheese together with the grilled bell pepper using a food processor.

Mix well and season with salt and pepper to taste.
Pesto Butter Spread Procedure
Combine the basil leaves, garlic, corn oil, parmesan cheese, cashew nuts, salt and pepper.

Blend them together in a food processor. Set aside. Soften the butter in a mixing bowl, slowly incorporate the pesto and mix it well.