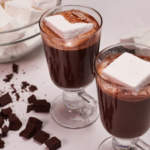 Homemade Vanilla Marshmallows
Ingredients
2

cups

white granulated sugar

2/3

cup

light corn syrup

¼

cup

water

24

grams

(3 packets of unflavored gelatin powder)

½

cup

cold water

¼

teaspoon

salt

vanilla extract

½

cup

each MAYA Cornstarch and powdered sugar mixed together

for dusting.
Instructions
Grease a 9-inch square pan, then line with non-stick baking paper. Make sure to cut excess so that it has flaps on the side. Spray again with cooking spray.

In a mixer bowl, bloom gelatin powder in ½ cup cold water. Set aside.

In a saucepan, pour in granulated sugar, light corn syrup and ¼ cup water. Place over medium low heat.

Heat the sugar until it reaches 240F/115C. Once the sugar syrup almost reaches the correct temperature, whip the bloomed gelatin on high speed, slowly and gradually pouring the sugar syrup.

Continue whipping on high speed for about 10-12 minutes until the mixture fluffs.

Add in the salt and vanilla extract. Continue whipping until salt and vanilla is mixed in.

Pour mixture into prepared pan. Flatten with a greased offset spatula. Dust the top with the powder mixture. Place in the fridge to set.

Dust a chopping board with more cornstarch-powdered sugar, then tip the set marshmallow into the board. Cut using a greased sharp edge knife or greased cookie cutter, as desired. Dust with more powder then sift to remove excess.