Looking for something special and savory for Valentine's or an anniversary? This Heart Shaped Pizza ticks all the right boxes! Turn up the heat for some romance with heart salami, pepperoni cut outs, and melted cheese to melt those hearts!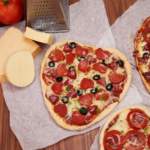 Heart Shaped Pizza
Ingredients
2 - 2 1/3

cups

MAYA All-Purpose Flour

Approx. 250-295g

2 1/4

teaspoon

instant yeast

1 1/2

teaspoons

sugar

3/4

teaspoon

salt

1/2

teaspoon

garlic powder

½

teaspoon

dried basil leaves

optional

2

tablespoons

olive oil

add more as needed

3/4

cup

water
Pizza Sauce:
¾

cup

tomato sauce

¼

cup

tomato catsup

3

– 4 tablespoons brown sugar

2

teaspoons

Italian seasoning

Salt and pepper

to taste
Pizza Toppings:
Pepperoni

Salami ham

Mozzarella cheese

Cheddar cheese

Parmesan cheese
Instructions
Combine 1 cup (125g) of flour, instant yeast, sugar, and salt in a large bowl. Add garlic powder and dried basil if desired.

Add olive oil and water, using a wooden spoon to stir very well.

Gradually add another 1 cup (125g) of flour. Add additional flour as needed. Stir until the dough forms a cohesive, elastic ball and begins to pull away from the sides of the bowl. The dough will be slightly sticky but should still be manageable with your hands.

In a separate large and clean bowl, generously drizzle olive oil using a pastry brush to cover the sides.

Lightly dust your hands with flour and form your pizza dough into a ball. Transfer the dough to the olive oil-brushed bowl. Use your hands to roll the pizza dough along the inside of the bowl until it is coated in olive oil. Tightly cover the bowl with plastic wrap and place it in a warm place to proof for 30 minutes or until it has doubled in size.

Preheat oven to 425⁰F (215⁰C).

Once the dough is proofed, punch the dough down to gently deflate it and transfer to a lightly floured surface. Knead briefly until smooth.

Use your hands or a rolling pin to work the dough into a greased and lined heart shaped pan. You can also form it into a heart shape on a pizza pan lined with parchment paper, and either pinch the edges or fold them over to form a crust.

Drizzle about a tablespoon of olive oil over the top of the pizza. Use your pastry brush to cover the entire surface of the pizza (including the crust) with olive oil.

Use a fork to poke holes all over the center of the pizza to keep the dough from bubbling up in the oven.

Add desired toppings and bake in a 425⁰F (215⁰C) preheated oven for 13-15 minutes or until toppings are golden brown. Slice and serve.
Recipe Notes
Prep Time: 1 hr 30 mins
Yield: 3 medium-sized heart shaped pizza.