Nothing beats a slow afternoon spent with the family, and maybe followed by a leisurely nap. But here's a way to make it even better! Throw in a quick dessert that's gorgeously rich and satisfying with our Happy Mug Microwave Chocolate Lava Cake! And the best part is you can have it in 15 minutes or less!
Pro Tip: Did you overlook Valentine's, an important anniversary, or someone's birthday? It's the Happy Mug Cake to the rescue! Whip it up real quick and add some strawberries or sprinkles for some modest romantic gestures!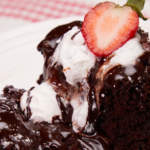 Happy Mug Microwave Chocolate Lava Cake
Ingredients
1 to 2

tablespoon/s hazelnut chocolate paste/spread

1

pack MAYA "Happy Mug" Chocolate Mug Cake Mix 80g

3

tablespoons

water

whipped cream

toppings

chocolate syrup

toppings
Instructions
Scoop 1 to 2 tablespoons of hazelnut spread and form into balls. Place in the freezer for 15 to 30 minutes to harden.

Prepare chocolate mug cake ingredients as per package directions. Place the frozen hazelnut balls in the middle of the chocolate mug cake mixture, then microwave it uncovered for 1 to 1 and 1/2 minutes. Remove from the microwave, cover with the lid, and microwave for another 30 seconds to seal the moisture.

Uncover and unmold mug cake, then pipe whipped cream and drizzle with chocolate syrup before serving. Best serve warm.
Recipe Notes
Prep Time: 15 minutes
Yield: 1 serving