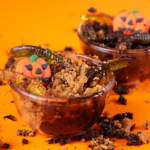 Halloween Brownie Dirt Bowls
Ingredients
cup

½ butter

softened

2

pieces

eggs

1

pack MAYA Chocolate Fudge Brownie Mix 500g

cup

½ butter

softened

2

pieces

eggs

1

pack MAYA Butterscotch Brownie Mix 500g

halloween themed -sugar toppers

gummy candy
Instructions
Preheat oven to 350F/177C. Grease and line two 9-inch square pans. Set aside.

In a bowl, stir butter, eggs, Fudge Brownie Mix until well blended.

Pour the batter in one of the prepared pans, level out the batter using an offset spatula.

Repeat steps 2 and 3 with the Butterscotch Brownie Mix.

Bake brownies for 20-25 minutes or until baked. Loosen from the pans and let the brownies cool.

Crumble brownies by hand or in a food processor.

Put enough brownie crumbs in cups, top with sugar toppers and gummy candy.
Recipe Notes
Yield: 15-18 servings