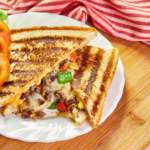 Grilled Cheese Taco Sandwich
Ingredients
8

cloves

garlic

minced

500

grams

ground beef

salt and pepper

2

pieces

medium-sized onion

chopped

1

piece

red bell pepper

sliced

1

piece

green bell pepper

sliced

1

can red kidney beans

drained

1

teaspoon

chili powder

1

teaspoon

dried oregano

1

tablespoon

taco seasoning

1/4

cup

spaghetti sauce

1

cup

beef stock

8

slices

large loaf bread

1/3

cup

melted butter

2

pieces

tomato

sliced

1

head small-sized iceberg lettuce

shredded

8

slices

mozzarella

8

slices

sharp cheddar cheese
Instructions
Heat oil in a medium-sized pan over medium heat. Sauté garlic until aromatic.

Add beef and continue sautéing until beef is cooked, season with salt and pepper.

Add onion, red and green bell peppers, and red kidney beans. Continue sautéing until bell peppers are cooked.

Add seasonings, chili powder, oregano, taco seasoning, and spaghetti sauce. Mix well.

Add beef stock, stir and let it simmer and reduce for about 5 minutes. Turn-off heat and set aside.

Heat a griddle pan and lightly brush it with oil.

Get two slices of loaf bread and brush both sides with melted butter.

Put 2 to 3 tablespoons of beef taco filling on one slice of bread, then add sliced tomato, ample amount of shredded lettuce, then put two slices of mozzarella and cheddar cheese. Then cover it with another piece of bread, lightly press.

Place the taco sandwich on the preheated pan griller and let it grill for 2 to 3 minutes per side or until cheeses melts. Remove grilled cheese taco sandwich from the griddle, let it cool for 1 minute, slice it in the middle and serve.
Recipe Notes
Yield: 4 servings